Johns Hopkins BME grad program ranked nation's best by 'U.S. News'
March 20, 2018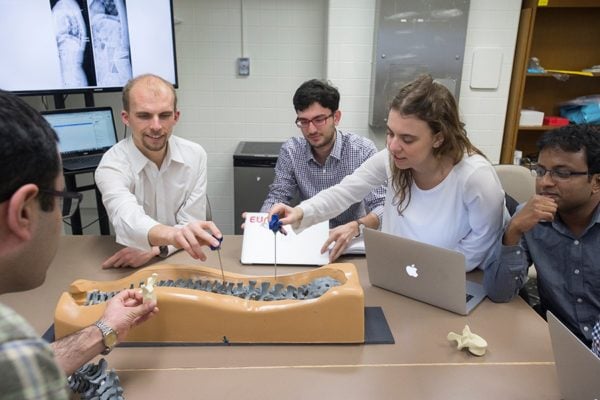 The Johns Hopkins University graduate program in biomedical engineering is once again among the country's very best, according to the annual U.S. News & World Report ranking of the nation's Best Graduate Schools. The program returned to its traditional sole possession of the No. 1 spot in the rankings after sharing the top spot a year ago. The Whiting School of Engineering moved up for the fourth consecutive year to 18th overall.
The U.S. News Best Graduate Schools rankings, released today, are based on a number of indicators, including an institution's global and national reputation, publications and citations, research statistics, admitted student information, and other factors.
"As home to one of the founding departments in the field, Johns Hopkins has a strong tradition of excellence in biomedical engineering," said Michael Miller, director of the Department of Biomedical Engineering, which is part of both the School of Medicine and the Whiting School.
"Our pioneering faculty and students are pushing the boundaries of discovery in emerging fields, and these advances in neuroengineering, data science, regenerative engineering, computational medicine, and genomic engineering form the heart of our undergraduate and graduate curricula. In this way, Johns Hopkins is training the next generation of leaders who will engineer the future of medicine."
In addition, the Johns Hopkins School of Nursing's master's degree program rose to first place, while the School of Medicine moved up to second place among research-oriented medical schools. Its internal medicine program is tied with Harvard University for the No. 1 spot.