Johns Hopkins Biomedical Engineering Society wins 2013 Student Chapter Commendable Achievement Award
September 16, 2013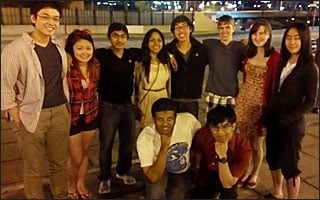 The Johns Hopkins Biomedical Engineering Society has been selected to receive the 2013 Biomedical Engineering Society (BMES) Commendable Achievement Award.
The award is given each year to a student chapter that submitted a Chapter Development Report which demonstrates evidence of outstanding performance in enhancing the professional awareness and education of their members in the previous year.
The award was given to the Johns Hopkins BMES chapter upon evaluation of our annual chapter development report, submitted in June 2013, noting exemplary achievement in fostering interaction between BME students within Johns Hopkins as well as creating relationships with student chapters from other schools.
Exemplary events included the annual winter social, the BME mentoring event, and undergraduate research day — collaborated with the University of Maryland in Spring 2012.
Our 2013–2014 executive board includes: President: Anvesh Annadanam; Vice President: Alex Diehl; Secretary/Treasurer: Luis Herrera; and Committee Chair: Haley Huang. Our general board includes: Mentoring Chair: Wesley Chan; Programming Chair: Sarah Daggett; Chapter Development Chair: Peter Yao; and Membership Chair: Joanne Song.
The Biomedical Engineering Society (BMES) works to serve as the world's leading society of professionals devoted to developing and using engineering and technology to advance human health and well-being.