Jennifer Xu and the I-STAR Lab Reach Major Milestone in Cone-Beam CT
November 21, 2016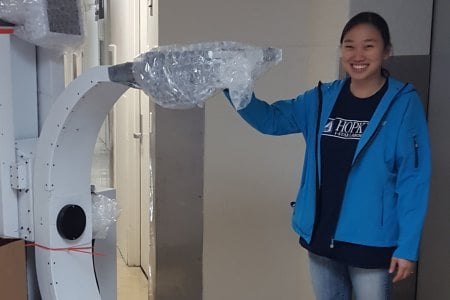 Recent PhD graduate from Johns Hopkins Biomedical Engineering, Jennifer Xu, reached an important milestone in translating her research from the laboratory to first clinical studies of a new point-of-care cone-beam CT (CBCT) scanner. Under the direction of Jeffrey Siewerdsen, professor of biomedical engineering at Johns Hopkins, the scanner was designed to image acute intracranial haemorrhage (ICH) in patients with brain trauma, aneurysm, haemorrhagic stroke, postsurgical bleeding, or hydrocephalus.
Transferring critically ill patients from the intensive care unit to the CT scanner suite costs time and carries appreciable risk of adverse effects. Xu's work on the portable CBCT scanner started with fundamental mathematical models of image quality and carried through to construction of the scanner prototype and first clinical tests. "Obtaining high image quality on a portable imaging system with low dose was a major challenge," remarks Xu. "But the ability to bring the scanner to the patient could reduce risks and provide more timely diagnosis and monitoring."
Siewerdsen and Xu, along with colleagues in the I-STAR Lab at Johns Hopkins and researchers at Carestream Health, are working to further improve image quality, reduce time, and validate diagnostic performance in the critical care setting. They are also investigating future application for imaging in the operating room.
"We have begun clinical studies in the Neurological Critical Care Unit at Johns Hopkins University under an IRB-approved protocol," said Siewerdsen, in an interview with MedicalPhysicsWeb. "Initial results are very promising, demonstrating both the challenges for high-quality CBCT in soft-tissue imaging and the potential to provide reliable detection of ICH at the bedside. The clinical study includes direct comparison to diagnostic CT acquired immediately prior to the CBCT image, which helps to clearly characterize the diagnostic accuracy provided by the prototype."
For additional details, please visit MedicalPhysicsWeb.