Jeff Siewerdsen and the I-STAR Lab win the 2013 Spine Technology Award
October 10, 2013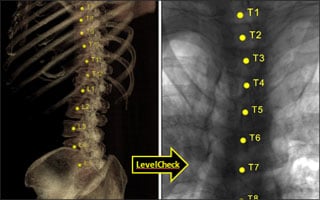 Researchers at Johns Hopkins University have been awarded the 2013 Spine Technology Award for development of "LevelCheck" — a technology for the prevention of wrong-site surgery. The team was led by Jeff Siewerdsen (Department of Biomedical Engineering, The I-STAR Lab) with collaborators Yoshito Otake (BME), Ziya Gokaslan (Neurosurgery), and Jay Khanna (Orthopaedic Surgery) and collaborators Gerhard Kleinszig and Sebastian Vogt from Siemens Healthcare. The award was announced this week at the North American Spine Society (NASS) annual meeting and in Orthopedics This Week.
First reported in their paper entitled "Automatic localization of vertebral levels in x-ray fluoroscopy using 3D-2D registration: a tool to reduce wrong-site surgery," LevelCheck uses an advanced form of 3D-2D registration and high-speed computing to automatically label vertebrae in intraoperative x-ray images. It operates without any additional tracking or navigation equipment, computes the registration in as little as 1 second, and integrates naturally with surgical workflow.
LevelCheck helps address the clinical need to eliminate wrong-level spine surgery — the second-most common category of wrong-site surgery, estimated to occur in 1 in ~3000 spine surgeries. This new technology offers an independent check on target localization by quickly registering structures defined in preoperative CT (including vertebral labels and any other planning data, such as desired device trajectories) directly in fluoroscopy or mobile x-rays. Following initial evaluation in images drawn from the NCI Image Archives as well as preclinical cadaver studies, LevelCheck is now undergoing clinical pilot studies at Hopkins.
The Spine Technology Award is intended to bring increased recognition to exemplary and innovative spine surgery products and the engineering teams and inventors who create them./p>