Investing in the future of health care
November 13, 2014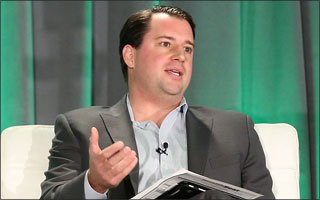 At 15, during his after-school job developing target recognition software for the defense industry, BME alumnus Robert Mittendorff, '98, had a prodigious realization. "Although I enjoyed the work technically," says the San Carlos, California, resident, who as a teenager could program in five computer languages, "I had this awakening that I wanted to be involved in building technology for helping people, not tracking targets — which I think is very important but is not my first passion. I realized I could do this in health care."
Mittendorff discovered that the people who had the most influence over the software's features and capabilities were former intelligence analysts who understood the project's needs from field experience. So he headed to Johns Hopkins University as a biomedical engineering major with plans to train as a physician (in emergency medicine, so he'd have the broadest exposure) and then enter the health care technology field. He figured this way he would have an understanding of the challenges of medicine from a doctor's perspective.
After graduating from Johns Hopkins, Mittendorff went on to earn his MD and MBA. A week after completing his residency at Stanford, he started work at the medical robotics company Hansen Medical Inc., where he was involved in designing and launching the Magellan and Sensei X robotic systems. He also led partnerships with General Electric Co., Siemens, and Philips and closed deals in excess of $100 million.
Today, Mittendorff is a principal at Norwest Venture Partners in the San Francisco Bay area, where he focuses on investing capital in the health care sector, or as he explains it, "finding clinical needs that technology can solve, and getting paid to do it." Since he joined the firm in 2012, Mittendorff estimates he has looked at more than 1,000 companies and has been involved in funding fewer than 10. Among those funded are Misfit Wearables, a consumer wearables company, iRhythm, a wearables and health care services company, and Health Catalyst, a health care analytics company.
"Lots of technology is born ugly, so you have to train your eye to see the beauty of these things in the raw, in their early habitats." he says.
Mittendorff volunteers his expertise at Johns Hopkins as a member of the advisory committee for the Johns Hopkins Technology Transfer office. He and his wife, Stephanie, are parents to Katherine, 2.
— Nora George