I-STAR researchers shine at SPIE Medical Imaging 2015
February 27, 2015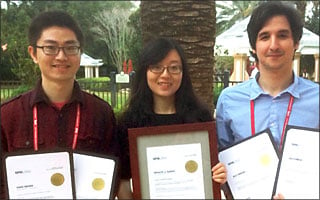 In sunny warm Florida a team of researchers from the Johns Hopkins I-STAR Lab assembled at the February 2015 SPIE Medical Imaging Conference. They joined a large delegation of scientists, medical and industry professionals coming from all corners of the world to share the latest research in digital pathology; tomography; image processing, perception, registration, informatics, and segmentation; computer-aided diagnosis; and ultrasound.
BME Professor, Jeffrey Siewerdsen, was thrilled at the recognition received by the team. "The I-STAR Lab trainees received 1st, 2nd, and 3rd place paper awards between the 'Physics of Medical Imaging' and 'Image-Guided Procedures' conferences as well as two 'finalist' placements for the conference-wide Robert F. Wagner Best Student Paper Award." Dr. Siewerdsen added, "It's fantastic to see such great teamwork rewarded at this outstanding conference. SPIE has always been a hot-bed for the most cutting-edge imaging science, and for our students to do well there is a real testament to their talent."
The Awards
Grace Gang, BME Postdoctoral Fellow

1st Place, Student Paper Award, Physics of Medical Imaging:

For her talk: Task-Driven Imaging in Cone-Beam Computed Tomography."

Grace's work uses a 3D image quality model as a means to drive C-arm CT systems in a manner that optimizes the performance of a particular task. By incorporating knowledge of the patient anatomy, the locations of interest within the body, and the features of interest to the surgeon, this "task-driven imaging" approach provides a mean to prospectively design patient-specific image acquisition and reconstruction methods that maximize task performance and reduce radiation dose. The method was developed and validated in imaging scenarios ranging from body imaging to neurovascular procedures. Coauthors were J. W. Stayman, S. Ouadah, T. Ehtiati, and J. H. Siewerdsen. The work was conducted with support from the NIH, Siemens AX, and the AAPM.

Ali Uneri, Computer Science PhD student

2nd Place, Young Scientist Award, Image-Guided Procedures, Robotic Interventions, and Modeling:

for his talk "Known-Component 3D-2D Registration for Image Guidance and Quality Assurance in Spine Surgery Pedicle Screw Placement"

Ali's work involves a new image registration method for surgical guidance and QA that uses simple C-arms and mobile radiography systems in the OR to allow navigation without conventional tracking systems and provide quantitative measurement of surgical device placement, a check on proper instrumentation, and conformance within surgical margins. The method was developed and validated in phantom and cadaver studies emulating pedicle screw placement in spine surgery. Coauthors were J. W. Stayman, T. De Silva, A. S. Wang, G. Kleinszig, S. Vogt, A. J. Khanna, J.-P. Wolinsky, Z. L. Gokaslan, and J. H. Siewerdsen. The work was conducted with support from the NIH and Siemens XP.

Hao Dang, BME PhD student

3rd Place, Student Paper Award, Physics of Medical Imaging

for his talk "Traumatic Brain Injury Using Statistical Reconstruction with a Post-Artifact-Correction Noise Model"

Hao's work involves an advanced 3D image reconstruction method for high-quality cone-beam CT of intracranial hemorrhage and traumatic brain injury. Previous work by Sisniega et. al. developed a method for correcting major artifacts in cone-beam CT of the head. Hao developed a reconstruction method that accounts for the changes in the image noise model associated with such artifact corrections, yielding images that maintain the benefit of the artifact corrections while reducing image noise, improving image quality, and/or reducing radiation dose. The work was developed and validated as part of a program underway in the I-STAR Lab to develop a cone-beam CT system for point-of-care detection and diagnosis of acute traumatic brain injury. Coauthors were J. W. Stayman, A. Sisniega, J. Xu, W. Zbijewski, J. Yorkston, N. Aygun, V. Koliatsos, and J. H. Siewerdsen. The work by Dang was conducted with support from Carestream Health.

Hao and Ali were also recognized as Robert F. Wagner Best Student Paper Conference Finalists.
Outstanding Talks
Excellent talks were also presented by Sarah Ouadah, Alejandro (Alex) Sisniega, and Wojciech Zbijewski on topics ranging from photon counting detectors to image-guided interventions.