Hopkins entrepreneurs, alums land on Baltimore '40 Under 40′ list
August 25, 2017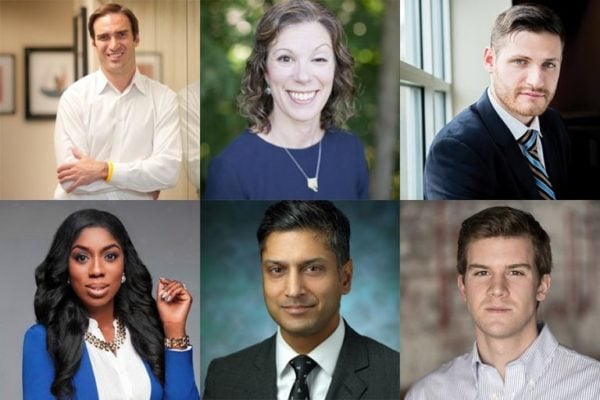 A number of local movers and shakers with ties to Johns Hopkins have landed on the "40 Under 40" list published by the Baltimore Business Journal.
The journal's annual list takes note of "innovators, professionals, and entrepreneurs in Greater Baltimore who have already made great strides before the age of 40," including developers, CEOs, educators, and nonprofit founders. A Nov. 16 ceremony will celebrate this year's batch of honorees, who were whittled down from 450 initial nominations.
Honorees with ties to the Johns Hopkins BME include:
Sarah Hemminger is co-founder and CEO of Thread, a social venture that connects underperforming high-schoolers in Baltimore with layers of volunteer support, including tutoring and meals. Last year the program also launched a "Conversation Thread" series bringing together more than 1,000 people for dialogues about Baltimore's needs that culminated in local service projects. At Hopkins, Hemminger studied engineering as an undergrad and went on to receive a PhD in medicine.
David Narrow started developing an innovative solution for postoperative blood clots while he was a graduate student at the Johns Hopkins Center for Bioengineering Innovation and Design. Now Narrow has turned this technology into a promising startup, Sonavex, that has raised more than $4 million and recently moved out of the FastForward Homewood innovation hub into its own office space in Canton.
David West started Proscia as a biomedical engineering student at the Whiting School of Engineering, aspiring to usher pathology data into the digital age. The startup, which has been described as a "game-changing company in digital pathology," is developing software to help researchers and pathologists analyze mountains of data in order to improve diagnosis and treatment of cancer. West's company—nurtured by Johns Hopkins Tech Ventures along with the Ralph S. O'Connor Undergraduate Entrepreneurship Fund—has secured nearly $2 million in outside capital over the past year.
Excerpted from the Hub.