Helping a needle on the right path
October 30, 2016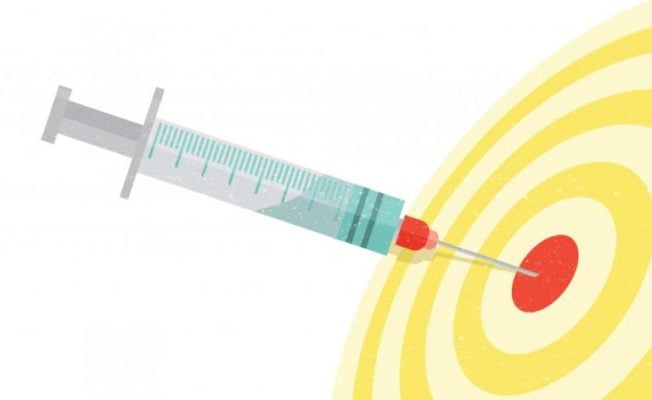 Deep needle placements to sample cerebrospinal fluid, conduct biopsies, or place lines for anesthesia or drug therapy occur millions of times per year. But about a third of the time, needles may be difficult to place. In addition, the anatomical targets are typically very small and located deep within the body, offering a tiny window for a successful procedure. And the path to the target is fraught with obstacles such as blood vessels, bone, and nerve bundles.
In some cases, says Nicholas Durr, an assistant professor of biomedical engineering and director of undergraduate programs for BME's Center for Bioengineering Innovation and Design, "the physicians have to poke around in the spine with a needle to try to find the right position. That can cause severe headaches for patients, and physicians can spend 10 to 15 minutes trying to find the right position." If they can't, patients are scheduled for a fluoroscopy, or real-time X-ray, to help guide the needle; it's expensive, it's not recommended for pregnant women, and if it has to happen after hours, patients must be admitted to the hospital overnight.
One idea has been to solve the problem with ultrasound, Durr says, but ultrasound sensors placed on the skin to help guide the needle can be too far away from the vertebrae to be helpful. When Johns Hopkins neurologist Abhay Moghekar brought these concerns to CBID, a student team led by Nisu Patel, BME '16, came up with its own innovative solution: Accuo, a device that incorporates ultrasound imaging at the tip of the needle. Using novel signal processing, Accuo generates an image of the surrounding tissue as the physician moves the needle. By visualizing the location of the needle tip with respect to obstacles and targets, physicians can better guide the needle toward its intended target.
"With all of the technologies available for needle placement, none of them are really applicable to all of the different patient types," says project leader Melissa Lin, BME '16, who studied biomedical engineering as an undergraduate and is now an electrical engineering graduate student. Accuo, which is being developed within Assistant Professor Emad Boctor's Medical UltraSound Imaging and Intervention Collaboration lab at the School of Medicine, can fill this gap in patient care, Lin says. "What we're hoping to develop," she says, "is a device that is simple and intuitive for physicians to use so they won't have to modify the procedure in any significant way."
The device, still in development, has earned $25,000 in seed money from the Coulter Foundation and stage 1 funding from VentureWell. The team is applying for stage 2 VentureWell funding as well as grants from the Maryland Innovation Initiative and National Institutes of Health Small Business Innovation Research program, Durr says.
"It's really impressive for undergraduate students to develop such a mature understanding of a problem and find an opportunity that could be impactful," Durr says. "They identified a compelling opportunity that got a lot of senior faculty and physicians excited about working with the team."
– Karen Blum