Five Johns Hopkins students named 2014 Siebel Scholars — four from BME
September 23, 2013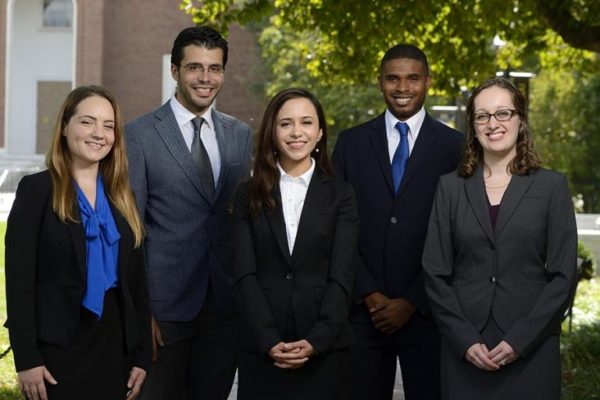 Five Johns Hopkins graduate students have been named to the 2014 class of Siebel Scholars. Chosen from a pool of 85 candidates from prominent graduate schools around the world, the five students are working on new and better ways to detect and treat health problems. The merit-based Siebel program provides $35,000 to each student for use in his or her final year of graduate studies.
"It's an honor that the Siebel Foundation has, once again, decided to name five of our most promising graduate students as scholars in their vibrant community of talented future leaders," says Andrew Douglas, interim dean of the Whiting School of Engineering. "This award will expand our students' opportunities for entrepreneurship and collaboration, which we consider integral to innovative engineering research."
At Johns Hopkins, the Siebel Scholars program supports doctoral students in bioengineering studies. Four of this year's recipients are pursuing their degrees within the university's Department of Biomedical Engineering,
Siebel Scholars are chosen by the deans of their respective schools on the basis of outstanding academic achievement and demonstrated leadership. On average, Siebel Scholars rank in the top 5 percent of their class, many within the top 1 percent.
The 2014 Johns Hopkins Siebel Scholar honorees are:
Sravanti Kusuma: Kusuma has been a key member of a Johns Hopkins team that is trying to grow healthy human blood vessels in a lab. If the project succeeds, these lab-grown networks could someday be implanted in patients whose own blood vessels have been damaged by diabetes, burns and other conditions.
Tushar Rane: Rane focuses on droplet microfluidics. Rane has helped develop various forms of droplet microfluidic platforms that can be used to analyze bio­molecules such as DNA, RNA and enzymes — which will result in the detection of infections and cancer-related mutations.
Sahar Soleimanifard: Soleimanifard's research focuses on the design, development and programming of noninvasive three-dimensional MRI techniques aimed at detecting the impact of stress and other factors on changes in coronary anatomy and on blood flow within the vessels. This noninvasive techniques would enable early detection of coronary artery disease and treatment before the condition becomes life threatening.
Stephany Tzeng: In her research, Tzeng has been developing genetic correction delivery methods using biodegradable nanoparticles that can be used to treat cancer and to promote tissue healthy regeneration.
Jiefeng Xi : Xi has been developing "optical biopsy" techniques which would enable assessment of tissue pathology within they body at a resolution almost as sharp as that of a lab microscope. This technique will enable doctors to detect disease at an earlier stage and more effectively treat the condition. In connection with his research, Xi is listed as a co-inventor on three patent applications.
For more details view the Johns Hopkins press release.