First-year Hopkins student named Maryland Student Employee of the Year
May 2, 2019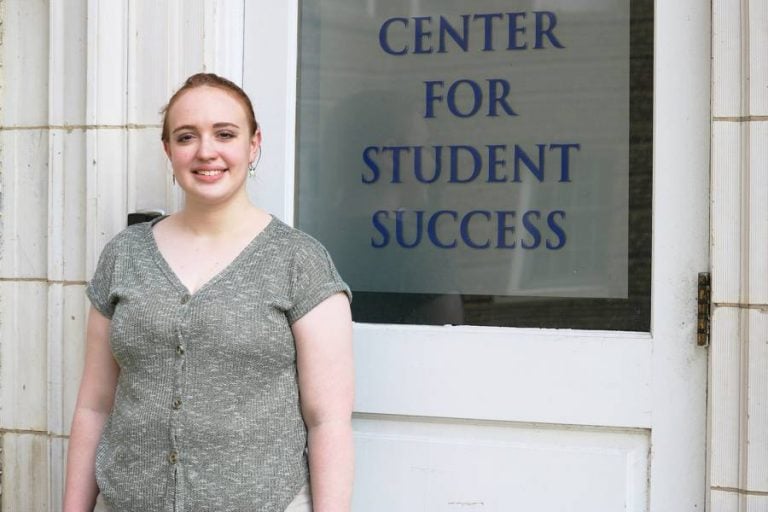 As a first-generation college applicant, Autumn Hughes said there was no one in her immediate network to help her navigate the complex transition between high school and college. She felt overwhelmed with questions she didn't know the answers to—and questions she didn't even know she should be asking.
Soon, though, she received a helping hand through Johns Hopkins University's Hop-In program.
"I didn't really know anything about college other than it's the next step beyond high school," said Hughes, a first-year student majoring in biomedical engineering. "There were so many things that I didn't know how to navigate, and all of a sudden when I joined Hop-In, I had advisers and other people going through the same experience as me to help me through it."
The Hop-In Program supports first-generation and limited-income college students, providing peer and academic support, financial assistance, tutoring services, and more. After participating in Hop-In's five-week summer program, which aims to acclimate students to the college experience, Hughes found herself eager to help other first-generation applicants and students like herself. When the opportunity to work as an assistant to program director Candice Baldwin presented itself, Hughes was eager to apply.
For her work assisting Baldwin and helping execute Hop-In's goals, Hughes was named Hopkins Student Employee of the Year, an award presented annually to a student who has made a significant contribution to the university through their student job, demonstrating their work ethic, reliability, initiative, creative thinking, and professionalism. More recently she was named Maryland Student Employee of the Year, an award that recognizes those same qualities in college students across the state.
As Baldwin's assistant, Hughes is responsible for managing logistics and helping to organize Hop-In. These tasks can include working at the front desk, scheduling interviews for the incoming cohorts, managing and visualizing data, and presenting figures about the program's initiatives. Baldwin said Hughes was an invaluable resource, aiding in the search for an assistant director for programming, creating an end-of-semester survey, and compiling information on student participation in high- impact practices.
"Autumn has shown a tenacity for tackling assignments with new approaches, new tools, and to her credit, new energy," Baldwin said. "It is rare to find a student at this age who is able and willing to perform at such a high level."
Hughes said she is most proud of her work with the Hop-In Book Loan Program, which purchases textbooks that can be lent to students during the school year. The loan program launched this year, and Hughes has worked to gather information on budgeting, classes that are most commonly taken, and how to manage the program's growing library of books.
Next year Hughes plans to continue her work with the Hop-In program and said she also hopes to add volunteering to her workload of class, Hop-In, extracurricular activities like the Design Club, and her second job as a teaching assistant.
"I've always been drawn to the human aspect of work," Hughes said. "That's why I enjoy my job here so much. It's focused on the people. Between my classwork, my activities, and my job, I just like to serve people in different facets."