Feilim Mac Gabhann wins Sloan Fellowship
February 16, 2012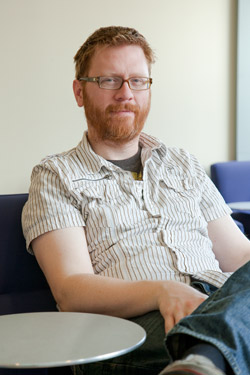 Feilim Mac Gabhann, an assistant professor of biomedical engineering and a core faculty member of the university's Institute for Computational Medicine in the Whiting School of Engineering and School of Medicine, has won a 2012 Sloan Research Fellowship to support his combined experimental-computational approach to developing new ways to treat major human diseases, including cancer, peripheral artery disease and HIV.
Administered by the Alfred P. Sloan Foundation, these fellowships seek to stimulate fundamental research by early-career scientists and scholars of outstanding promise. Since the Sloan Foundation began awarding fellowships in 1955, 38 recipients have gone on to win Nobel Prizes in their careers.
Feilim's current research involves both computer models and biological lab studies. One of his goals is to use genetic and physiological data to differentiate subgroups of patients who respond differently to therapies. This could help personalize medical care so that individual patients receive the treatment that is most likely to yield favorable results.
"Feilim is a young star who is merging the fields of computational modeling and fundamental biology; he is breaking new ground in modeling growth factor networks and tissue morphogenesis," said Elliot McVeigh, Massey Professor and Director of Johns Hopkins' Department of Biomedical Engineering. "Biology, math and computer science are becoming inexorably linked, and young faculty like Feilim are driving this change forward."
Raimond L. Winslow, director of the Institute for Computational Medicine, added, "Dr. Mac Gabhann's work is a perfect example of the emerging discipline of computational medicine, in which experimentally-based computational models of disease processes are used to obtain novel insights on disease mechanisms, and to reveal new therapies that are tailored to the needs of the individual. Biological systems, in both health and disease, are too complex to be understood without quantitative models that capture what we truly know about these systems, and that guide us through the highly complex landscape of biology. Dr. Mac Gabhann's work is at the leading edge of computational medicine."