Entrepreneurial engineer focuses on clinical needs
October 15, 2015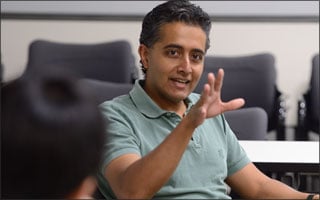 Physician and engineer Ananth Natarajan, MSE '92, returned to Homewood campus this year as part of an ongoing speakers series, sponsored by BME Extramural Development in Graduate Education, to share with biomedical engineering graduate students his experience launching a medical device company.
In 1997, Natarajan and Johns Hopkins Department of Biomedical Engineering Professor Nitish V. Thakor co-founded a company called Infinite Biomedical Technologies to transform promising biomedical concepts into products. Although Natarajan had graduated several years previously, he continued to collaborate with his former professor, Thakor, while pursuing a medical degree.
During his residency in OB-GYN at the University of Southern California, Natarajan saw a need for improved technologies in a clinical setting. "I became involved in Infinite Biomedical Technologies," he told BME students, "not because I wanted to be a businessman, but because I wanted to get products to patients."
At first, company officials found themselves successful at receiving federal grants for projects, but they weren't as successful at developing products that were economically viable in the complex health care marketplace. The company faced some challenges with operations and commercialization planning.
"We learned that even if a product works well and makes sense from a clinical standpoint, you still have to think about liability, reimbursement, and the whole health care system," said Natarajan.
Nonetheless, he encouraged Johns Hopkins students to not fear failure. "I don't think I would be the person I am or appreciate the success we have if I didn't see all the different mistakes and the failures and the revisions and the reiterations we went through."
Today Infinite Biomedical Technologies is focused on improving the care of upper limb amputees. Its products are used by individuals in 16 countries. The company also launched a subsidiary called Vigilant Medical, which developed HIPAA-compliant medical image sharing used for the care of over 20,000 patients last year. Another IBT subsidiary developed mobile applications including an app for reading capsule endoscopy studies. The Baltimore-based IBT employs a handful of BME alumni. Natarajan left the day-to-day running of the company in 2008 and now focuses on mentoring and translational research.
Natarajan admitted that the risk of starting a company is not for everyone. "Figuring out your financial risk tolerance is a highly personal decision. My goal was to achieve clinical impact, and I'm hell-bent on doing it."
In hindsight, he says Johns Hopkins turned out to be the perfect choice for his graduate work because of the institution's unique relationship with engineering and medicine. He said, "It's invaluable to have direct access to clinicians and patients, to see and hear what the needs are in person."
— Alaina Willing