Engineering safer surgery: The LevelCheck algorithm translated to first clinical studies
February 27, 2014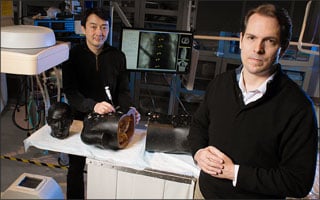 Johns Hopkins professor of biomedical engineering Dr. Jeffrey Siewerdsen and an interdisciplinary team of engineers and surgeons at Hopkins are bringing new tools to task in making spine surgery safer and more effective. Among such tools is the LevelCheck algorithm — an advanced 3D-2D image registration approach that leverages high-speed computing to provide surgeons with an on-demand, labeled visual depiction of the spine and surgical target in image acquired in the operating room.
Following development over the past two years and winning a 2013 Spine Technology Award, LevelCheck is now being translated to clinical studies with Dr. Ziya Gokaslan and fellows in the Department of Neurosurgery at Hopkins. "We are beginning with a retrospective study," says Dr. Gokaslan, "to evaluate the accuracy of LevelCheck in real patient images. Future studies will measure the ability to improve localization of target vertebrae and benefit overall workflow."
LevelCheck uses high-speed GPU computing to quickly register a patient's preoperative 3D CT scan to 2D x-ray images obtained in the operating room. The registration allows any information defined in the 3D preoperative image to be accurately overlaid on the intraoperative image. In labeling vertebrae, for example, LevelCheck provides decision support and assistance beyond manual level counting to help ensure that the surgeon is targeting the correct vertebral level.
"LevelCheck is not a replacement for the surgeon's expertise," says Siewerdsen. "As an independent check, it could provide an extra level of safety against the very rare occurrence of wrong site surgery."
The research team includes collaboration with Dr. Ziya Gokaslan (Neurosurgery), Dr. Sheng-Fu (Larry) Lo (Neurosurgery), Dr. Jay Khanna (Orthopaedic Surgery), Dr. Nafi Aygun  (Radiology), Dr. Yoshito Otake (Computer Science), and Dr. Jeff Siewerdsen (Biomedical Engineering) at The I-STAR Lab. Collaborators at Siemens Healthcare include Gerhard Kleinszig and Sebastian Vogt.