Featured Highlights
Dusting off the sewing machine to donate PPE
August 5, 2020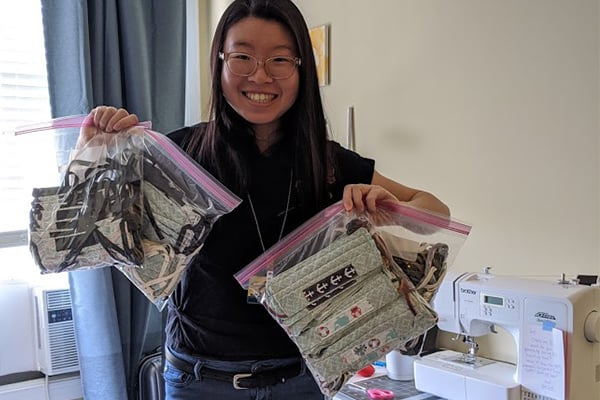 When Ivy Wang first learned to sew two years ago, she could never have predicted that the simple stitching skills she mastered would help her protect the lives of hundreds during a global pandemic as a volunteer making cloth masks for frontline workers.
"At the beginning of April, I saw an email from Hopkins asking for community donations of cloth masks, and I thought this was something I could do to make a difference," said the PhD candidate in biomedical engineering. "But when I saw the pattern and instructions, I wondered if I was capable. At that point, I couldn't even remember how to thread my machine!"
However, after pulling out her dusty sewing machine and refreshing her skills with a series of instructional YouTube videos, she was ready to give it a try.
Wang joined the PPE Baltimore Facebook page, where volunteers work together to donate to many other local organizations, such as nursing homes and shelters. The group also helped her acquire some fabric and ties donated by members of the community.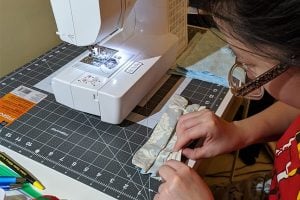 A few long nights later, she dropped her first batch of masks off at the Johns Hopkins Hospital, and posted her excitement to social media. Aaron Chang '14, who was researching ways to improve mask designs, saw Wang's post and reached out to her.
"We had a Zoom call where we shared ideas for better sealing and filtering, and he asked for my feedback as a mask-maker," said Wang. "I gave him a few different mask patterns to test his ideas, and he also donated a supply of coffee bag ties for the nose-sealing piece of my masks."
Eventually, Chang helped Wang apply for a grant from the Warnock Foundation COVID-19 Emergency Fund, which was used to cover a large portion of the cost for materials to make more masks. The funding helped Wang provide face coverings to a variety of organizations throughout Baltimore, including Ronald McDonald House Charities, the University of Maryland Medical Center, and the MedStar Union Memorial Hospital.
Wang has sewn and donated more than 600 masks, and has recently returned to the bench to begin conducting COVID-19 research. The demand for PPE has slowed down, but she plans to continue to fill requests from shelters and other low-resource organizations.
"Batch sewing was really exhausting at times, but when I think about the worn-out doctor that ran outside from the ER to pick up my masks, or the nurse I met outside the hotel where she had been living in order to keep her family safe, I just kept sewing," said Wang. "In a time of social-distancing, I actually felt more connected to my community than ever before. I am glad that I was able to find a way to support our frontline workers at Hopkins and in the greater Baltimore region."