Dr. Jordan Green named 2012 Maryland Outstanding Young Engineer
December 4, 2012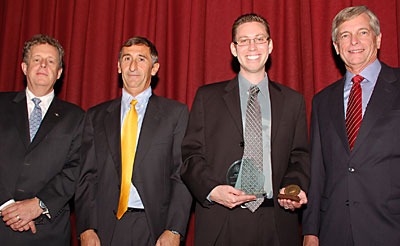 Jordan J. Green, Assistant Professor of Biomedical Engineering and the Wilmer Eye Institute, JHU School of Medicine has been named the 2012 Maryland Outstanding Young Engineer ("OYE") by the Maryland Academy of Sciences and the Maryland Science Center. The OYE award recognizes Maryland residents 35 years of age or younger who have distinguished themselves early in their careers for noteworthy scientific accomplishments.
Dr. Green has integrated engineering, biology, chemistry and materials science to create synthetic biodegradable nanoparticles that can safely and effectively deliver nucleic acids into human cells. This transformative technology has wide-ranging applications, from regenerative medicine to treating diseases such as cancer and cardiovascular disease.
Dr. Green was honored at a reception at the Maryland Science Center in Baltimore in late October 2012. He was presented with the Allen C. Davis medal in recognition of his OYE award.