Computational medicine begins to enhance the way doctors detect and treat disease
November 5, 2012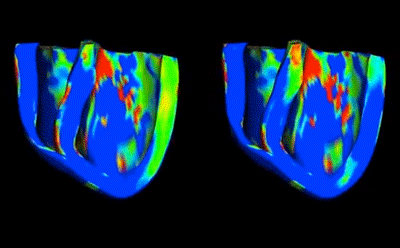 An article entitled "Computational Medicine: Translating Models to Clinical Care" was published on Oct. 31, 2012 in the very prestigious interdisciplinary journal, Science Translational Medicine. The report was written collaboratively by Johns Hopkins Institute of Computational Medicine director Raimond L. Winslow, along with three other Johns Hopkins professors affiliated with the Institute.
Lead author, Raimond L. Winslow commented, "We are poised at an exciting time in medicine. . . . The field of computational medicine has exploded."
Launched in 2005 as a collaborative effort between the Whiting School of Engineering and School of Medicine, the institute uses powerful computers to analyze and mathematically model disease mechanisms. The results are used to help predict who is at risk of developing a disease and how to treat it more effectively.
From the review article, here are examples of how computational medicine is changing the detection and treatment of disease:
Advanced mathematical models are allowing researchers to better understand how networks of molecules are implicated in cancer and then use this knowledge to predict which patients are at risk of developing the disease.
A discipline called computational physiological medicine is using computer models to look at how biological systems change over time from a healthy to an unhealthy state. This approach is being used to help develop better treatments for cancer, diabetes and heart disease.
Computational anatomy uses medical images to detect changes, for example, in the shape of various structures in the brain. Researchers have found shape changes that appear to be associated with Alzheimer's disease and neuropsychiatric disorders.
Computational models of electrical activity in the heart are on their way to being used to guide doctors in diagnosing and preventing sudden cardiac death.