CBID team members appear on CNN segment
May 31, 2011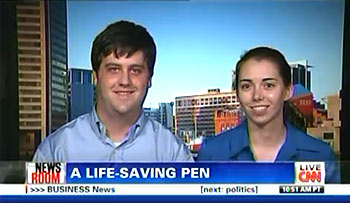 Sean Monagle and Mary O'Grady, members of the CBID team that developed the Antenatal Screening Kit pen system, were interviewed on CNN's Newsroom with Ali Velshi, in a segment called The Big I (Idea, Innovation and Intelligence). Sean and Mary talked about how the Antenatal Screening Kit was developed, and how CBID partners with Jhpiego to identify needs for low-cost medical devices for developing countries.
Other members of the team are Maxim Budyansky, Sherri Hall, Mathew Means, Shishira Nagesh, Peter Truskey and James Waring.
About the Antenatal Screening Kit
Each year, 6.3 million pregnant women and newborns die due to complications from pregnancy and childbirth. A staggering 99 percent of maternal deaths occur in developing countries and many could have been prevented with basic interventions had their conditions been diagnosed in a timely manner. The limiting factor in these resource-constrained settings is the inability to screen for these common conditions. Currently available tests for these conditions are too expensive for widespread use in developing countries. The Antenatal Screening Kit consists of extremely inexpensive urine and blood tests for use by semi-trained healthcare workers in developing countries. The tests use commercially available reagents delivered through an innovative pen platform that brings the cost of a single test down from 50 cents to 1/3 of a cent.