CBID students and faculty hike to top of Pulpit Rock in Norway
February 18, 2013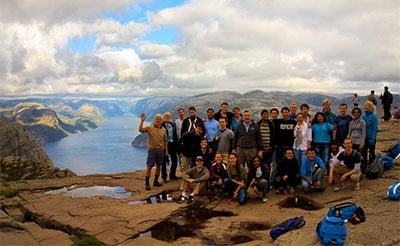 Graduate students and faculty from the Johns Hopkins Biomedical Engineering Department's Center for Bioengineering Innovation and Design ("CBID") join their sponsors from Laerdal Medical in a hike to the top of Pulpit Rock near Stavanger, Norway. The stop in Norway was the culmination of the CBID MSE students' global health innovation rotations in India, Nepal, Tanzania, and Kenya in August 2012.
The CBID Global Health Innovation Program was launched in 2010. It supports CBID students to understand critical healthcare needs in low-resource countries and to create and develop high-performance low-cost solutions. Each year, CBID MSE students travel for several weeks in August to countries in the developing world to get a first-hand understanding of the challenges in these health care environments. In 2012, students have traveled to India, Nepal, Tanzania and Kenya. These immersion visits are hosted in-country by Jhpiego, a Johns Hopkins affiliate and world leader in maternal, child, and family health care around the world. Major funding for this program is provided by Laerdal Medical, a world leader in training and tools for first responders and caregivers in developed and developing countries.
"CBID students bring a unique passion and creativity to their global health innovation projects." says Youseph Yazdi, Assistant Professor of Biomedical Engineering and CBID Executive Director. "The skills they learn in this trip and these projects will shape their careers, whether in industry, academia, or medicine. We are very thankful to Tore Laerdal and his colleagues for their mentorship and financial support."
Pulpit Rock or Preikestolen is a massive solid rock outcropping 1,980 feet above a large fjord in Norway near the city of Stavanger. The hike to the top takes about 2 hours and has a change in elevation of about 1,100 feet.