CBID program receives $200,000 from Medtronic
July 25, 2013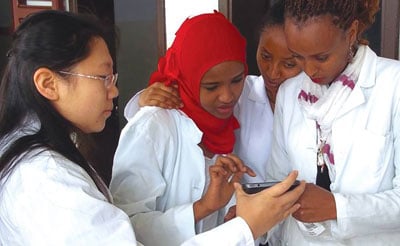 Medtronic, one of the world's largest medical technology companies, is partnering with JHU to provide $200,000 per year for up to three years and skilled mentoring to support the Biomedical Engineering (BME) Center for Bioengineering Innovation and Design (CBID) program. This gift is designated to support one CBID graduate-level design team annually to help students design new healthcare solutions for underserved patients in developing countries. The initial focus will be in India, treating individuals with the health disorder atrioventricular block, or AV block, which interferes with the pumping process of the heart..
"Through this generous gift, Medtronic is providing financial support as well as experienced mentoring, both of which are critically needed," said Youseph Yazdi, executive director of CBID and an assistant professor in the Department of Biomedical Engineering. "This gift will provide benefits to our students by allowing them to work with experienced engineers and scientists from one of the best medical device companies in the world to address unmet needs in developing countries."
Elliot McVeigh, director of the Johns Hopkins Department of Biomedical Engineering, said, "When the BME Department launched the CBID program a few years ago, we knew it would take us in new directions. So far, the results have been phenomenal. Our partnership with Medtronic in training and research has been very strong and productive over many years; we feel Medtronic's new commitment to BME through CBID recognizes the value of our venture into these new directions and is the next step in this significant partnership."
"There is tremendous need in these markets for innovative solutions to noncommunicable diseases, and we are excited to partner with Johns Hopkins to explore new concepts designed for these markets," said Mike Hess, vice president for pacemakers at Medtronic and a member of CBID's External Advisory Board.
Read the full story: JHU Press Release