Brody Scholar Karchin assesses impact of DNA sequence variations
November 12, 2013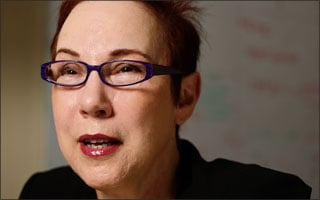 Rachel Karchin, an associate professor of biomedical engineering and a member of the Institute for Computational Medicine (ICM), has been named a William R. Brody Faculty Scholar for a three-year term. The award provides exceptional faculty with flexible financial support to advance research, teaching, and entrepreneurial activities.
In addition, this year Karchin has been promoted to associate professor and received two large research grants to support her work in the use of computational methods to assess the impact of DNA sequence variations. The grants, from the National Cancer Institute (NCI) and the National Science Foundation (NSF), total roughly $1.5 million and extend over three years.
In the NCI grant, Karchin hopes to make strides in developing algorithms and software tools to interpret large-scale cancer genomics data sets. Under the NSF grant, her group will develop computer models to better understand how mutations in a single, critical gene interact with one another to increase bacterial antibiotic resistance.
Her lab's ultimate goal is to computationally model genomic alterations and improve clinical care by identifying drug targets and biomarkers for disease diagnosis and treatment.
Of her work related to cancer, Raimond Winslow, director of the ICM, says, "Rachel is blazing a new frontier of cancer biology in which computational modeling will be used to identify the gene mutations that drive tumor progression. Ultimately, this computational approach will lead to more personalized, precision cancer therapies."
In one such project, Karchin is working with colleagues Bert Vogelstein and Anne Marie O'Broin-Lennon, of the Hopkins Ludwig Sidney Kimmel Cancer Center, in a study of pancreatic cysts. "Most cysts never turn out to be cancer, but there will be some that will," Karchin says. "We are developing an algorithm to identify biomarkers of cyst prognosis." This will tell doctors which cysts are most likely to become cancerous.
In a second cancer project, her group is working with Florin Selaru, of the Johns Hopkins School of Medicine's Division of Gastroenterology, on an algorithm to identify bile duct carcinomas based on an abundance of miRNA molecules in the bile fluid. "We hope that these algorithms will be able to play a critical role in the management of clinical care," Karchin says.
Another important area of research involves the CFTR gene, which is linked to cystic fibrosis, an inherited chronic disease that affects the lungs and digestive system. It is the second most common life-shortening inherited aliment behind sickle cell anemia in the United States. Newborn screening programs attempt to identify babies with CF, in order to begin early treatment.
But researchers still do not completely understand which of the 2,000 rare alterations in the CFTR gene result in disease progression. In collaboration with Garry Cutting and Patrick Sosnay, of the Johns Hopkins School of Medicine, Karchin's lab is working to predict computationally the CF disease risk of these gene alterations. This will enable doctors to determine optimal treatment options for patients carrying the CFTR gene.
Karchin says she is hopeful that her lab's work will contribute to developing targeted therapies to treat disease.
"In this era of big data and genomics, computational analysis has a vital role to play," she says. "We have the opportunity to advance biomedical computational research and make a real impact on human health."