Bringing the textbook to life: High school students spend a day at Johns Hopkins BME
January 19, 2018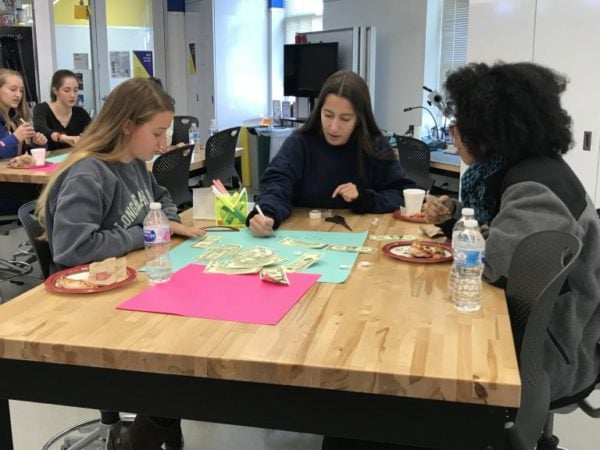 The Johns Hopkins Department of Biomedical Engineering hosted 16 high school students from the Park School of Baltimore to help fuel their passion for science and engineering.
As part of the Park School's Biomedical Research Methods and Experiments course, taught by Carla Guarraia, students learn experimental techniques and other skills needed to prepare them for future careers in science. The course covers several topics related to BME, such as computational biology and tissue engineering. The trip to Johns Hopkins, which included a tour of the Homewood campus and interactions with BME faculty members, gave students the opportunity to relate classroom lessons to real-world examples of research applications.
"During the visit to Johns Hopkins, our students began to see themselves as scientists," says Guarraia, who accompanied her students on the tour. "I like for them to experience different research environments to get them thinking about their future careers."
Over donuts and juice, the students started their visit with an informal conversation with Michael I. Miller, director of the Department of Biomedical Engineering. After a brief overview of Johns Hopkins and the BME department, students spoke to Miller of their educational interests, plans for college, and career aspirations.
Natasha K. Hussain, scientific director for the Kavli Neuroscience Discovery Institute at Johns Hopkins, continued the day by depicting the pull of biomedical research, which she portrayed as a form of "organized curiosity."  Recalling her own days as a student, Hussain described learning about a classic experiment in which scientists transplanted mouse neural crest cells into chick embryos. Surprisingly, the transplanted mouse tissue reactivated dormant genes in the chick genome, causing these embryos to develop vestigial teeth (read about the study here).
"That was the day that I knew I was hooked on science," explained Hussain. "How could you not be fascinated by chickens that grow dinosaur teeth? That experiment really sparked my curiosity."
Hussain also showed examples of Kavli NDI research interests, including 3-D image-based reconstructions of brains from so-called Brainbow mice, named for the multi-colored fluorescent tags that distinguish individual brain cells, or neurons, from each other in these animals. Scientists in the Kavli NDI use fluorescently tagged mice to study the dense network of cellular connections in the brain.
The students then toured the Institute for Computational Medicine, where Feilim Mac Gabhann, associate professor of biomedical engineering, described the impact of computational modeling on modern health care. Using patient data, Mac Gabhann and his lab build models that can, in the course of a few days or weeks, mimic individual responses to HIV therapies that would otherwise take years of lab experiments to understand. Mac Gabhann also showed students the ICM server room, where they witnessed the tremendous computing power required to run the simulations that model different types of patient therapies.
Elizabeth Logsdon, lecturer of biomedical engineering, concluded the visit with pizza and an activity in the BME design studio. After a brief introduction to the design process, students worked in groups to optimize paper currency for use by the blind. Instead of the visual elements that currently differentiate the various denominations, students devised new tactile features that would allow the blind to identify each bill by touch, incorporating various patterns of holes, ribbing, and indentations.
Logsdon then encouraged students to "think like engineers" and refine their designs by asking specific questions: Did their solution create a new problem? Are their new bills sturdy enough to withstand circulation? How will their designs impact the function of ATMs?
Throughout the day, students were able to tap into their curiosity and ask questions, which often stemmed from their classroom experiences.
"This visit really got our students excited about science," says Guarraia. "Johns Hopkins has the resources to perform research and complete projects that go beyond what our students can do at the Park School. This shows them that their options for the future are limitless."