BME undergrads win competition with PrestoPatch, cardiac arrhythmia treatment
November 13, 2013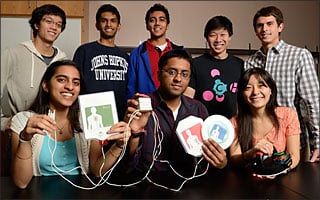 A Johns Hopkins University biomedical engineering undergraduate team placed first at the Collegiate Inventors Competition for their entry of PrestoPatch — a three-patch external heart shock system that could greatly improve the effectiveness of shock to reset heart rhythms.
The competition, held at the United States Patent and Trademark Office, included 31 students competing on 13 teams from universities and colleges across the United States.
The PrestoPatch Integrated Electrode System, developed by eight Johns Hopkins students, emerged from the undergraduate design team program in BME's Center for Bioengineering Innovation and Design. The team's faculty adviser was Robert Allen. The team members said they plan to use their $12,500 in prize money to help launch a company aimed at moving their invention forward.
The PrestoPatch system is designed to be used during the administration of electric shocks to patients experiencing arrhythmia, an erratic heartbeat that can be fatal. The PrestoPatch system allows the doctor to attach three patches to the patient, instead of two. If the first shock doesn't help, the doctor can quickly flip a switch and change the current's path through the body.
In the case that the body does not respond to the life-saving current and direct pressure is needed, the PrestoPatch system includes manual tool to apply the pressure in a standardized way. Lights on the tool alert the doctor when the proper pressure is applied. This improves upon the current method doctor s use of applying pressure to the patient's patch with their fists.
This is the second consecutive win at this competition for a Johns Hopkins team. Last year, the BME FastStitch undergraduate team won the competition with a disposable suturing tool.