BME undergrad wins JHU-UMD Research Day
April 23, 2015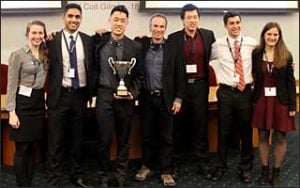 Students from two other universities traveled to Johns Hopkins in March for an annual Biomedical Engineering research competition; by the day's end, Johns Hopkins sophomore Andrew Tsai had emerged as the winner.
Tsai, who won the third annual JHU-UMD Undergraduate Research Day competition, placed first for his presentation on tunable electrospun anti-microbial coatings for orthopedic implants.
The biodegradable polymer coatings that Tsai helped develop prevent methicillin-resistant Staphylococcus aureus (MRSA) infections of implants in mice. It's hoped these coatings could eventually be used on implants like artificial knees and hips destined for people.
"This project is addressing a new product that would be able to completely coat an entire implant," says Tsai. "That's important because you want no opportunity for bacteria to be able to stick onto the implant."
Infections during orthopedic replacement surgeries can be a problem. If an infection goes untreated, bone around the implant can decay and lead to the implant's having to be removed. Although such infections are uncommon, an increasing number of Americans are undergoing orthopedic implant surgeries.
Of the 33 students who entered the competition, six — including Tsai — were chosen to present their work at Research Day. This year's competition, held in Hodson Hall, was organized by Biomedical Engineering Society (BMES) student chapter presidents Anvesh Annadanam (JHU BME) and Winston Liu (UMD BioE).
"The goal is to showcase undergraduate research at both institutions," says BME undergraduate program manager Cathy Jancuk.
For the first time, University of Delaware students led by BMES chapter president Daniel Charytonowicz also participated in the competition. The event was held at the University of Maryland last year.
Tsai began work on his project in January 2014 as an undergraduate research assistant in the lab of Lloyd Miller, an associate professor of dermatology. Working with lab technician Alyssa Ashbaugh, Tsai developed mouse models, assisted in surgical testing of the implants, and tracked infection rates. He says he enjoyed the Research Day competition in part because it reminded him of his high school years in San Jose, Calif.
"This really brought me back to how I go started in science, which was through county and local science fairs," says Tsai.
Awardees for oral presentations:
1st Place — Andrew Tsai (JHU) — "Tunable Electrospun Antimicrobial Coatings for Orthopedic Implants"
2nd Place — Brian Heligman (UMD) — "Point-of-Care Biosensors for Hyperammonemia and Aminoacidopathies"
3rd Place — Rebecca Stevick (UMD) — "Measuring Cell Traction Forces in Simulated Microgravity"
First place poster award:
Bretta Fylstra (UDel) — "A Model to Customize AFO Footplates to Preserve Shank Progression with Limited Ankle Dorsiflexion"
— Sarah Richards