BME undergrad Ivan Kuznetsov named 2014 Goldwater Scholar
March 28, 2014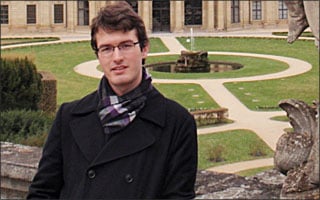 Ivan Kuznetsov, a sophomore in the biomedical engineering program, is one of four Johns Hopkins under­graduates awarded a 2014 Goldwater Scholarship. Ivan arrived at Hopkins in 2012 with significant research experience and was granted a Westgate Scholarship upon admission to the Whiting School of Engineering. He is pursuing a MD/PhD and is majoring in Biomedical Engineering and Applied Mathematics.
The 2014 Goldwater Scholars were selected on the basis of academic merit from a field of 1,166 mathematics, science, and engineering students. The student nominees were recommended by the faculties of colleges and universities nationwide. Competition for the scholarship is exceptionally intense. Universities are allowed to nominate only four undergraduate students per year.
In awarding scholarships, the nominee's field of study, career objectives, and the extent to which that individual has the commitment and potential to make a significant contribution to his or her field is considered. This is judged by letter of references, essays written by the student, and prior research experience. A total of 283 Goldwater Scholarships for the 2014–2015 academic year were awarded to undergraduate sophomores and juniors from the United States.
The Goldwater Scholarship Program, honoring Senator Barry Goldwater, was designed to foster and encourage outstanding students to pursue careers in the fields of mathematics, the natural sciences, and engineering. The Goldwater Scholarship is the premier undergraduate award of its type in these fields.
The one and two year scholarships will cover the cost of tuition, fees, books, and room and board up to a maximum of $7,500 per year.
Other Johns Hopkins University 2014 Goldwater Scholars include: Jorge Menendez (junior), Cognitive Science major; Andrew Griswold (junior), Chemistry; and Ryan Patterson (junior), Neuroscience and Molecular/Cellular Biology.