BME students showcase solutions to health care needs at annual Design Day
May 18, 2018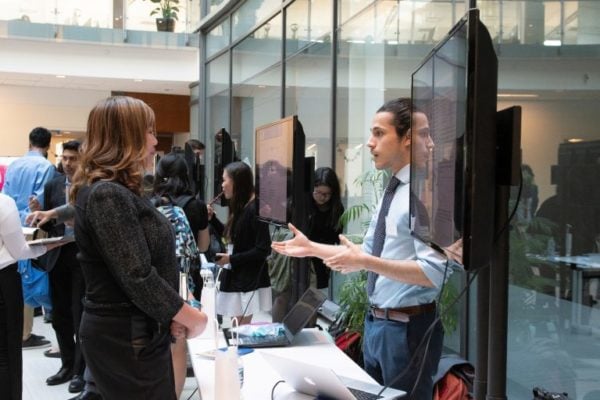 The Johns Hopkins Department of Biomedical Engineering celebrated the 20th anniversary of its landmark undergraduate design program at the annual BME Design Day on May 8 at the Johns Hopkins Medical Campus. Expanded to graduate students in 2009 through the department's Center for Bioengineering Innovation and Design, the BME design program brings together teams of students, clinicians, faculty, and external mentors to solve urgent health care challenges through the principles of engineering and design.
During this year's BME Design Day, 17 teams of biomedical engineering undergraduates and eight teams of CBID master's students presented their year-long projects to hundreds of engineers, physicians, and industry leaders. In addition to introducing their design concepts, student teams described their clinical inspiration, research outcomes, and future plans.
Following the presentations, attendees had the opportunity to interact with students, ask questions, and get an up-close look at prototypes during a poster session and reception.
Karen Talmadge, president of Nabu Strategic Advisors and chair of the American Diabetes Association Board of Directors, opened the event with a keynote talk detailing the challenges and triumphs that come with a career in innovation.
"The job of an entrepreneur requires a vision, a business plan, funding, and belief in what you're doing," said Talmadge. "Every innovation starts and ends with the patient, and you must think about that holistically."
During the event, Susan Harvey, director of breast imaging at Johns Hopkins Medicine, received the 2018 Clinician Innovator-Mentor Award for her dedication to supporting BME design students. For the past three years, Harvey has helped teams develop new methods to diagnose and treat breast cancer in rural Africa and other under-resourced parts of the world.
Students were also honored for their achievements during BME Design Day. Attendees voted for their favorite design projects, determining the winners of the People's Choice Awards. These include:
First Place: Braegen
To combat glioblastoma, an aggressive form of brain cancer, the Braegen team created Chroninfuse, a cranial implant that uses direct drug delivery to prevent tumor recurrence and extend patient lifespan. Undergraduate team members include Victor Dadfar, Victoria Fang, Daniel Huang, Zhou Li, Hadley Van Renterghem, Cindy Choi, Angela Lu, and Deborah Weidman.
Second Place: Osteocast
Using unique filler materials and a vacuum molding system, the students of Osteocast designed a new type of cast that offers improved performance and an increased lifespan compared to typical fiberglass or plaster casts. Undergraduate team members include Tara Blair, Gabrielle Allred, Anders Gould, Shipra Khatri, Nikhil Murty, Victoria Chen, Ronak Mahatme, and Joshua Liu.
Third Place: QuantiShunt
By combining precise sensing capabilities and machine learning algorithms, the QuantiShunt team developed an innovative approach to monitor the function of the shunts used to treat hydrocephalus, a disease characterized by an excess of cerebrospinal fluid within the brain. Undergraduate team members include Vinay Ayyappan, Shayan Hemmati, Anneka Kleine, Ryan Majmi, Dante Navarro, Daphne Schlesinger, Helen Wiegand, and Walter Zhao.
Additional student awards presented during BME Design Day include:
Most Outstanding Technical Contribution from a Freshman: Robert Waxman
Most Outstanding Technical Contribution from an Upperclassman: Luke Zhu
Most Outstanding Project Management Contribution from a Freshman: Deborah Weidman
Most Outstanding Project Management Contribution from an Upperclassman: Callie Deng
Most Outstanding Design Team Leader: Rohith Bhethanabotla
Most Outstanding Design Studio TA: Connor Reid
Most Outstanding Mentor: Collyn Heier