BME students and faculty honored at Convocation Ceremony
May 10, 2019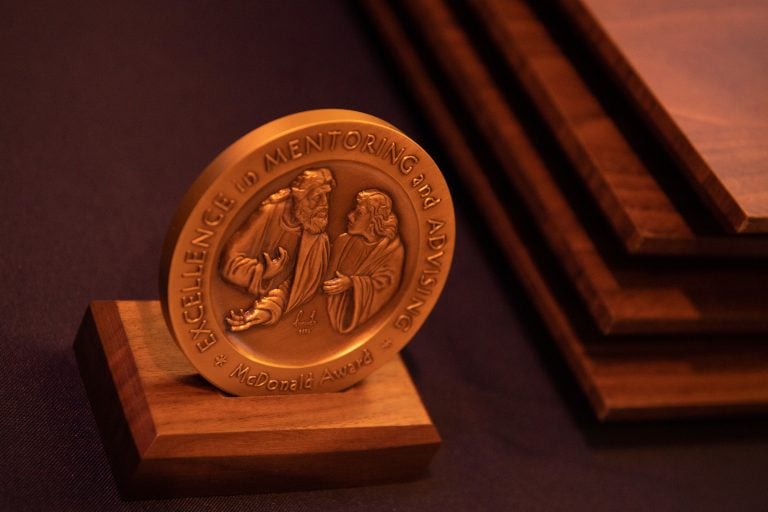 The Johns Hopkins Whiting School of Engineering honored students, faculty, and staff from each engineering department during the annual Convocation Awards Ceremony on Monday. These awards highlight hard work and outstanding achievements in research, academics, and mentoring.
The 2019 Robert B. Pond, Sr. Excellence in Teaching Award was presented to Eileen Haase, associate teaching professor in the Department of Biomedical Engineering, for excellence in instruction, success in instilling the desire to learn, and dedication to undergraduate students. This award is in honor of Robert B. Pond Sr., professor emeritus in the Department of Materials Science and Engineering.
The Capers and Marion McDonald Award for Excellence in Mentoring and Advising was presented to Nicholas Durr, assistant professor in the Department of Biomedical Engineering. This award honors teachers, researchers, and administrators who have consistently supported the personal and professional development of their students.
"It's a rare privilege to have the opportunity to work with the amazing students at Hopkins," said Durr. "To be recognized for mentorship by this community is deeply rewarding to me."
Biomedical engineering students recognized at Convocation include:
BME Distinguished Service Award
This award is presented to biomedical engineering students who have demonstrated outstanding service to the academic community through their work with the Biomedical Engineering Society or in the classroom.
Punthitra Arpornsuksant, Damali Egyen-Davis, Sanjay Elangovan, Shravya Gogula, Jacqueline Lanzaro, Jody Mou, Shreya Narayan, Xuejie Wang 
BME Undergraduate Research Day Award
This award is given to the top JHU BME research presentations at the annual Mid-Atlantic Undergraduate Research Day event.
Sandeep Kambhampati, Emily Chang, Marion Pang Wan Rion, Thomas DiSorbo, Andrew Efimov, Jeong Hun Kim 
Linda Trinh Memorial Award
This award is dedicated to the memory of Linda Trinh, Class of 2005, who worked tirelessly through her research and volunteer efforts to improve the human condition. It is awarded to a design team that embodies her spirit, qualities, and accomplishments.
Team ObstetriCare: Siddharth Arun, Erika Bhadra, Emily Chang, Kevin Gorman, Jacqueline Lanzaro, Pranavi Pallinti, Helen Rossmiller, Valerie Zawicki 
Richard J. Johns Award
This award is named in honor of Dr. Richard J. Johns, former director of the Department of Biomedical Engineering, who retired in 1991. It is presented to students who have achieved a high level of academic success.
Alaleh Azhir, Zi-Yi Choo, Elysia Chou, Paige Frank, Talia Kirschbaum, Allison Lemmer, John Lin, Ming Yang Lu, Rohan Panaparambil, Austin Petronack, Adam Polevoy, Dahlia Rohm, Alexis Scholtz, Jamie Shade, Chanon Thanitcul, Linh T.M. Tran 
David T. Yue Memorial Award
This award is dedicated to the memory of David T. Yue, MD-PhD Class of 1987, who was a joyful teacher, inspiring mentor, world-renowned scientist, and beloved colleague in the Department of Biomedical Engineering. It recognizes outstanding teaching or mentoring by undergraduate teaching assistants or laboratory managers.
Chukwuebuka Achebe, Punthitra Arpornsuksan, Fatima Bouftas, Pamela Chansky, Zi-Yi Choo, Damali Egyen-Davis, Shravya Gogula, John Lin, Christopher Mejia, Momin Mohis, Rohan Panaparambil, Dahlia Rohm, Nicholas Sass, Alexis Scholtz, Kamran Siddiq, Niki Tselepidakis