BME student team develops auditory training app for cochlear implant users
June 12, 2014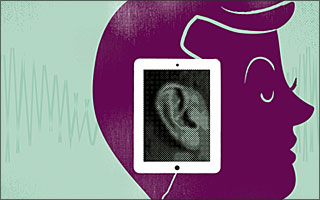 Cochlear implants (CI) are used by more the 325,000 deaf people worldwide. While the tiny electronic devices don't restore normal hearing, they provide a useful representation of sounds — making it possible to understand speech. Many people, however, face challenges learning to use cochlear implants, largely because auditory training opportunities are limited.
Now three BME undergraduates have come up with an iPad app called Speech Banana which expands access to auditory training — allowing deaf adults with CI to practice on their own. Their work is overseen by BME Associate Professor Tilak Ratnanather, who was born deaf but learned to communicate using hearing aids. Ratnanather received a cochlear implant in 2012, and he knows firsthand the trials of learning to use it.
"With a cochlear implant, it is not the same as normal hearing. It's electrical hearing. … You have to train the brain to interpret the signals," says Ratnanather. Unfortunately, many adults with cochlear implants don't have access to auditory training, or their insurance companies don't provide coverage for it.
"I'm fortunate because I work at Johns Hopkins," he says. "I go to the clinic once a week for an hour, and I've been doing that for two years. Some people only get one or two in-person training sessions a year."
That's where Speech Banana comes in. The app, named for the region on an audiogram where all the phonemes of spoken languages fall, doesn't replace in-person auditory training. "But we want to supplement it," says Margo Heston, a rising-senior biomedical engineering student.
The student team, which also includes BME rising-senior Rohit Bhattacharya and BME rising-junior Joanne Song, has a version of their app in beta testing with about 50 adults worldwide. They plan to make it available to the public later this year in English, and they hope to secure funds to translate it into other languages.
Heston says the team has put in hundreds of hours on the project so far, and while they received research credit last summer, they now consider it a personal calling. "This has real tangible potential to improve a person's functionality," she says.
— Mary Beth Regan