BME graduate student Kelly Chang awarded JHU ARCS Foundation Scholarship
April 11, 2014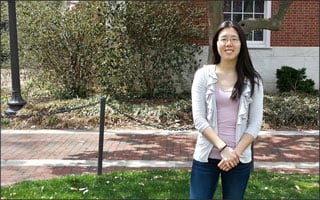 Kelly Chang, a graduate student in the Computational Cardiology Lab of Dr. Natalia Trayanova, Murray B. Sachs Endowed Chair and Professor of Biomedical Engineering, has been awarded the Johns Hopkins University's 2014–2015 ARCS Foundation Scholarship.
In the notification letter to Ms. Chang, the ARCS Foundation noted that Kelly's application stood out in the "most competitive pool of applications ever received." The graduate award of $15,000 may be used for education-related expenses such as tuition, books, supplies, travel to conferences, research activities as well as other needs.
When sharing the news of Kelly's award Dr. Trayanova stated, "I am thrilled that Kelly's talents are recognized — she is an outstanding scholar."
Kelly's research focuses on uncovering, with the use of sophisticated computational and mathematical approaches, the pathophysiological mechanisms of atrial fibrillation, the most prevalent arrhythmia in the patient population. As part of the award Kelly is invited to present her research at the ARCS Awards Reception later this year.
In 2011 Kelly's research efforts played a significant role in a collaborative effort to develop a novel approach to defibrillation as she conducted simulations to explore the interaction of the applied field with the heart.