BME graduate student Dan Wu awarded HHMI International student fellowship
August 28, 2014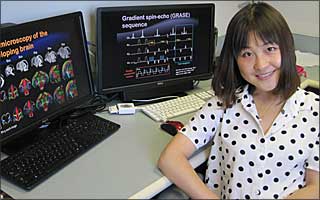 Dan Wu, a 3rd year PhD student in the Johns Hopkins Department of Biomedical Engineering, has been selected as one of the Howard Hughes Medical Institute (HHMI) 2014 International Predoctoral Fellows. This prestigious fellowship program supports outstanding international predoctoral students studying in the United States with $43,000 annually for up to three years. Dan was nominated as one of the few finalists by Johns Hopkins, and then stood out of the very competitive pool of international students across the United States.
Dan is working on developing innovative diffusion MRI methods to probe brain microstructural changes during brain development and injury. The fellowship supports her research on "Measure the dynamics of embryonic brain development in a unified framework of gene expression and MRI-based neuroanatomy."
To achieve the goal, Dan has developed a series of highly sophisticated methods, including in-utero MRI of the embryonic mouse brain, tailored for quantitative analysis of embryonic brain development.
Her Ph.D. advisor, Dr. Jiangyang Zhang in the department of Radiology, commented, "Dan is the driving force in this project, and the technique she developed will pave the way for many discoveries in this area. I am super excited for her."