BME graduate and team named to Forbes 30 Under 30 list
November 30, 2017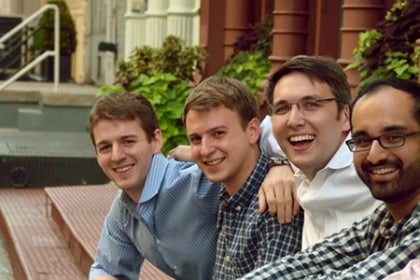 A four-person team of Johns Hopkins alumni behind the startup Healthify was named to the 2018 Forbes "30 Under 30" list in the health care category.
Healthify—which aims to help health care organizations connect patients to social services, community organizations, and government benefits—is the brainchild of Manik Bhat, who graduated from Hopkins with a bachelor's degree in molecular and cellular biology in 2012. The startup ensures that health care teams—including social workers and community health workers—can locate and connect at-risk patients to services like affordable housing, food, and childcare. By building a platform that helps patients access these services, Healthify addresses the social determinants of health: the non-medical factors that affect a person's health and well being.
The idea grew out of Bhat's experience as a student working with low-income families in Baltimore.
"Manik was part of a community volunteering program at Hopkins, and he witnessed firsthand the difficulty of connecting low-income patients to social services," says Daniel Levenson, a founding member of Healthify who graduated with a bachelor's degree in biomedical engineering in 2014. "The idea for a technology-enabled solution came from him, and I used my background in engineering and computer science to help develop the first iterations of the product."
Alex Villa, a 2012 graduate with a degree in mechanical engineering, manages operations for the team, and Eric Conner, who received his bachelor's and master's degrees in history in 2012, heads sales. Since incorporating in September 2013, the startup has grown to employ 45 people.
The team has won support from startup accelerators and business competitions over the years, including New York City accelerator Blueprint Health, the InvestMaryland Challenge, and the Johns Hopkins Business Plan Competition.
"Startups are a lot like roller coasters," Levenson says. "It's great to be recognized on a list like the Forbes 30 Under 30, but it's also very humbling. It doesn't change much about the day-to-day, but it's important to be able to increase visibility of the problem we're seeking to solve."