BME faculty, staff, and students honored at Convocation Ceremony
May 22, 2018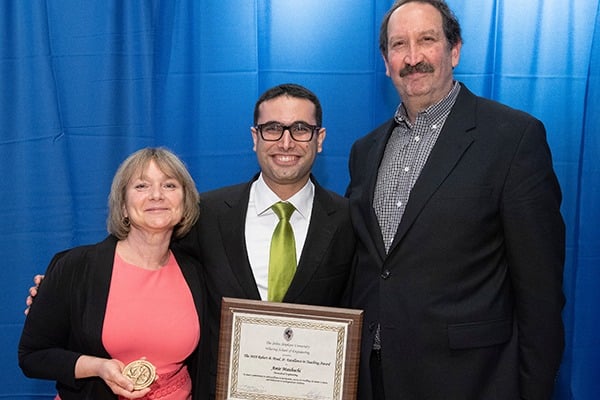 The Johns Hopkins Department of Biomedical Engineering is pushing the frontiers of biomedical research and innovation—from computer vision and large-scale data modeling to regenerative medicine and immunoengineering—and bringing these discoveries into the classroom through the new BME 2.0 curriculum. This month, the Whiting School of Engineering honored several BME students, faculty, and staff for their outstanding achievements in research, academics, and mentoring at the annual Convocation Awards Ceremony at the Homewood campus.
The 2018 Robert B. Pond, Sr. Excellence in Teaching Award was presented to Amir Manbachi, lecturer in the Department of Biomedical Engineering, for excellence in instruction, instilling the desire to learn, and dedication to undergraduate students. The award is given in honor of Robert B. Pond, Sr., professor emeritus in the Department of Materials Science and Engineering.
"I am humbled by this award, and I want our students to know that I learn as much from them as they may learn from me," said Manbachi. "As a coach, I consider myself part of the team—if they win, I win; and if something fails, I have something at stake too. This synergy goes both ways."
The Capers and Marion McDonald Award for Excellence in Mentoring and Advising was presented to Cathy Jancuk, undergraduate program manager in the Department of Biomedical Engineering. This award honors teachers, researchers, and administrators who have consistently supported the personal and professional development of their students.
"I am absolutely thrilled and surprised to be the recipient of this year's advising and mentoring award," said Jancuk. "It's a wonderful honor to work with students who are so passionate in their pursuit of knowledge and driven to make a major impact in the world. I'm happy to step on campus every day to help our students achieve their dreams."
BME students recognized at Convocation include:
BME Distinguished Service Award
This award is presented to students who have demonstrated outstanding service to the academic community through their work with the Biomedical Engineering Society or in the classroom. This year's honorees are:
Sarah Abella, Pascal Acree, Parth Vora
BME Undergraduate Research Day Award
This award honors the top student presenter at the annual Mid-Atlantic Undergraduate Research Day event. This year's honoree is:
Thomas Athey
Linda Trinh Memorial Award
This award is presented to members of a student design team that reflects the spirit and accomplishments of Linda Trinh, Class of 2005. This year's honorees are:
Mihika Aedla, Sophia Chang, Drake Foreman, Pooja Nair, Austin Petronack, Jamie Shade, Luke Zhu
Richard J. Johns Award
Named in honor of Richard J. Johns, former director of the Department of Biomedical Engineering, this award is presented to students who have achieved a high level of academic success. This year's honorees are:
Thomas Athey, Kali Barnes, Tiffany Chen, Kiersten Colotti, Gianluca Silva Croso, Himanshu Dashora, Nicolas Eng, Victoria Fang, William Franceschi, Saki Fujita, David Helfer, Dylan Hirsch, Dani Kiyasseh, Michael Koo, Michael Mudgett, Michael Murphy, Pranay Orugunta, Teja Polisetty, Denis Routkevitch, Vignesh Sadras, Vorada Sakulsaengprapha, Jin Young Sohn, Wooyang Son, Sunny Thodupunuri, Fernando Vicente, Amy Xiao, Felix Yu
David T. Yue Memorial Award
Dedicated to the memory of David T. Yue, a beloved mentor and colleague in the Department of Biomedical Engineering, this award recognizes outstanding teaching or mentoring by undergraduate teaching assistants or lab managers. This year's honorees are:
Conan Chen, Paige Frank, Haroon Ghori, Ananya Gupta, Dohyung Kim, Vanessa Ku, Michael Mudgett, Adam Polevoy, Denis Routkevitch, Daphne Schlesinger, Xuijie Wang