BME earns high honors in medical imaging physics at AAPM 2013
August 7, 2013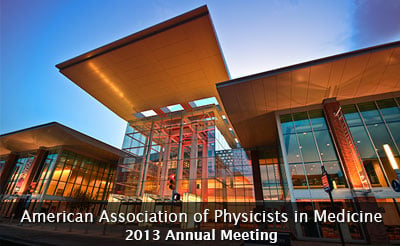 The American Association of Physics in Medicine (AAPM) concluded its 2013 annual meeting — an annual event that brings together over 4000 participants for the purpose of recogizing achievements that advance the science, education and professional practice of medical physics.
The Johns Hopkins Department of Biomedical Engineering is delighted that several department members were bestowed three prominent research awards.
Grace Gang Wins First Place in the John R. Cameron Young Investigator Symposium
The Young Investigator Symposium is a prestigious competitive session of the highest ranking proffered abstracts from new investigators in medical physics research. Grace Gang, a PhD student in the Department of Biomedical Engineering, presented her work on modeling of image quality in statistical iterative reconstruction. Grace earned first place in a heated competition of outstanding presentations on topics of imaging physics, radiation therapy, and image-guided procedures. The John R. Cameron Young award is among the most coveted honor for young researchers.
Adam Wang Wins the AAPM Research Seed Funding Initiative
Adam Wang, Ph.D., research scientist in the Johns Hopkins Department of Biomedical Engineering, earned a research seed grant for his research project entitled "Low-Dose C-Arm Cone-Beam CT with Model-Based Image Reconstruction for High-Quality Guidance of Neurosurgical Interventions." The Research Seed Funding Grant supports the development of new investigators in topics judged to be of highest quality and potential for establishing productive independent research.
Farrington-Daniels Award Presented to Tward, Miller and Ratnanather
Farrington Daniels Award, which is bestowed yearly to the authors of the most outstanding paper on radiation dosimetry. was presented to Johns Hopkins biomedical engineering authors Tilak Ratnanather, D.Phil, graduate student Daniel Tward, and Michael Miller, Ph.D., for their work on "Effects of protocol and obesity on dose conversion factors in adult body CT."