BME design projects in national press limelight
January 5, 2009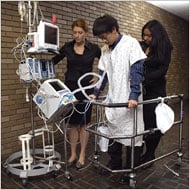 Two Design Team projects have been getting a lot of attention from national media.
The New York Times turned their attention to two BME
student design projects in the newspaper's recent roundup of "23 Student Innovations," a special feature of the Education Life section.
The ICU MOVER:
"Getting Up and Around, Even in Intensive Care"
and Oral Quick-Dissolve Strips for Rotavirus Vaccine:
The ICU MOVER and Dr. Dale Needham, faculty advisor to the MOVER project, were featured in an article in JAMA (Vol. 300, #14, Oct. 8, 2008) highlighting the importance of early mobilization of patients in the ICU.
Dr. Needham will be presenting the MOVER at an international scientific meeting in Brussels in March 2009, along with other biotech ideas for improving ICU-acquired neuromuscular weakness.