BME alumnus inducted into Bakken Society
October 9, 2017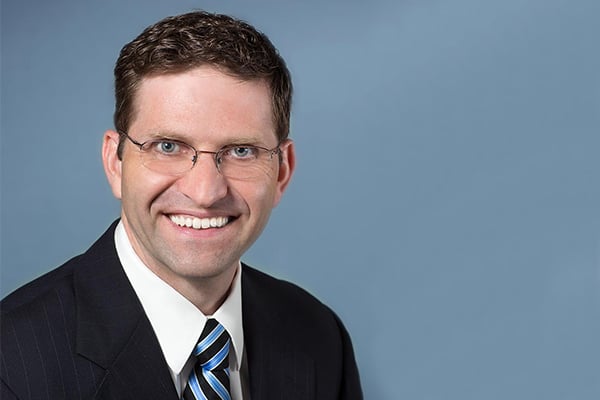 After graduating with his bachelor's degree in biomedical engineering from Johns Hopkins, Patrick Helm '96 continued to pursue his love of science through graduate studies. His master's research included work with clinical researchers in neurosurgery and orthopaedic surgery on the development of new image-guided surgery methods, and his doctoral research explored structural changes in cardiac anatomy associated with disease. He earned his PhD in biomedical engineering in 2005, working with Rai Winslow, former Department of Biomedical Engineering Director Elliot McVeigh, and current director Michael Miller on cardiac imaging.
With 13 years of Johns Hopkins training under his belt, Helm began his career in biomedical engineering and now manages a research team with Medtronic. "After a postdoctoral fellowship at UVA and a small stint at a startup, I was eager to make a stronger impact on patient care and medical technologies," says Helm. "Medtronic not only offers tremendous tools, talent, and resources but also has a corporate mission that strongly resonates with me."
On Aug. 10, Helm was inducted into the Bakken Society, an honorary society recognizing Medtronic employees who demonstrate the highest levels of scientific accomplishment and standards in originality, integrity, and leadership. Members have made multiple technical contributions to the lives of patients and to the corporation.
"While I look upon this induction as an achievement, I also know that it comes with an expectation to contribute at a whole new level to the technical and scientific innovations that made Medtronic successful in improving health care delivery and patient lives," says Helm.
Among his many notable achievements, Helm was the lead engineer in developing the latest O-arm surgical imaging system. The O-arm is predominately used in spine; ear, nose, and throat; and neurosurgery, allowing surgeons to acquire two- and three-dimensional X-ray images without having to move the patient from the operating table. The ability to acquire these images during surgery increases precision in minimally invasive procedures, can often eliminate the need for postoperative imaging, and improves safety while reducing the rate of surgical revisions.
Though it has been over a decade since Helm was enrolled at Johns Hopkins, he continues to collaborate with faculty members and researchers on developing new imaging systems. Working in close collaboration with Jeff Siewerdsen, professor of biomedical engineering, Helm and his team are working to develop new methods for image registration and low-dose 3-D imaging in the operating room. Their work is underway at the Carnegie Center for Surgical Innovation at the Johns Hopkins Hospital, bringing Helm back to the same operating rooms where he worked as a graduate student developing some of the first modern surgical guidance systems.
"It is wonderful working with Pat," says Siewerdsen. "He is a tremendous alumnus of Hopkins BME, and it shows in his depth of expertise, keen understanding of clinical problems, creativity, and integrity. We were thrilled to hear of his induction to the Bakken Society."
As the future of medicine develops and new surgical solutions make their way to market, Helm is eager to continue mentoring engineers and scientists beginning their own careers. "I have had the privilege of being mentored by pioneering professors at Hopkins and business leaders at Medtronic," says Helm. "I owe my early success to these mentors, and I am inspired to do the same."
– Sarah Tarney