BME alumni team enters wireless home lighting market
May 15, 2015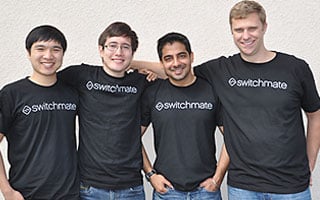 When three young BME alumni decided to create a startup intended to simplify the home automation industry, they were quick to draw on their Design Team days — the department's yearlong set of project-based courses in which teams of students solve practical problems in biomedical engineering. "Design Team at Hopkins was a fantastic learning experience," says Daniel Peng '12.
At Hopkins, Peng shadowed abdominal surgeons to understand the problems they faced so he could design solutions. In Palo Alto, Calif., Peng and his colleagues — Ashish Dua '11 and Rob Romano '11 — studied the problem of automatic light switches. Home automation is coming, they say, but interviews with customers at Home Depot and Lowe's showed them that the hassles of installation were preventing many consumers from seriously considering it in their homes.
Understanding that the solution needed to be as simple as possible, the trio designed a device that magnetically snaps onto an existing switch plate and connects to a smartphone app. Customers then use their phone to turn lights on and off from another room or from outside the home, or with a pre-set timer. No rewiring is involved, so installation is uncomplicated and feasible for renters like themselves as well as homeowners. An Indiegogo campaign raised funds to begin production this year, and Switchmate is scheduled to begin shipping in December: three devices for $119.
True to the teachings of Design Team, Switchmate has been all about the prototyping, Peng says. An early model included a hole to access the switch manually, but consumers reported that reaching through it was cumbersome. So the current model features a button to press instead.
"Being able to understand and empathize with your end customer is incredibly important," Peng says. "The Hopkins education for me was a lot about how can we really understand the problem, and understand the user, such that we can come up with a solution that fits their needs as best we can. In addition, as Hopkins BMEs, we've been actively exploring how the elderly and disabled can benefit from Switchmate."
— Rachel Wallach