BME alumni David Giarracco finds the right balance
May 23, 2016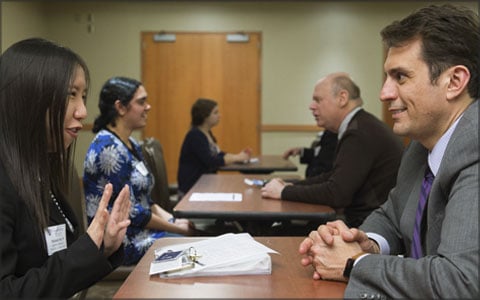 When he looks at how the younger generation gets work done, David Giarracco, BME '89, MSE '93, feels both admiration and concern: admiration for how they're able to connect virtually and take on a task without meeting in person but concern because they seem to miss social cues when interacting face to face.
Not that he doesn't conduct virtual meetings constantly as vice president of market development at Medtronic. Global gatherings with project partners are part of the routine. But he also knows the importance of stopping a discussion around a conference table when he picks up that one of the participants isn't tracking.
It's this duality of focus — the technical as well as the personal — that have helped Giarracco reach the position he has today. He credits the ability to think holistically and systematically to his Johns Hopkins education, particularly its emphasis on the fundamentals of biomedical engineering. The ability to pare down issues to the basic drivers is critical not just in solving technical issues but business ones as well.
"Business is like the human body," he says. "It's trying hard as hell to maintain the status quo, but it's got to work at it." As a business leader, his job is to identify all the issues that may impede or enhance growth — technical, practical, financial — and guide groups that are charged with solving the complexities inherent in the med tech industry.
Shortly after attaining his master's, he headed west to accompany then-girlfriend, now wife Jen Christensen, Med '93. He started in engineering roles — quality and manufacturing concentrations, working his way up to manufacturing manager — and then moved into more marketing-focused positions, primarily at Covidien, which was recently acquired by Medtronic.
Careers, Giarracco says, move more like a sailboat than a car: zigzagging back and forth, catching tailwinds to advance. But his internal way of making sure he's on course is to study the information shown on two imaginary dials: one showing how much he's learning, the other showing how much he's contributing.
"If the dials are 180 degrees, ideally you want them both to be sweeping into that upright position, between 80 and 110 degrees," he said. "If you're pegging it on contributing but not learning, it's time to look for another position. If you're learning a ton but not contributing, you're not long for the organization."
Giarracco returned to Johns Hopkins in February to be a keynote speaker at a speed networking event for engineering undergraduates. The event was sponsored by Hopkins Engineering Alumni.
— Michael Blumfield