Biomedical engineering undergraduates win 2018 DEBUT Design Challenge
September 21, 2018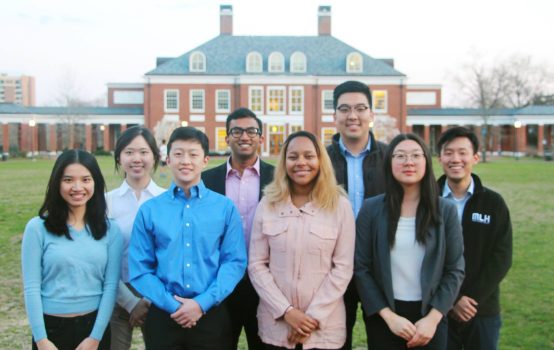 A team of undergraduate students studying biomedical engineering at Johns Hopkins University took home the top prize at the 2018 DEBUT Design Challenge, which recognizes promising students and their work in biomedical design and innovation.
Winning teams were evaluated on the significance of the problem being addressed, the impact on potential users and clinical care, the innovation of the design, and the creation of a working prototype.
Team CortiTech earned first place and $20,000 for its minimally invasive brain retractor, Radiex, which provides safer surgical access to deep-seated brain lesions. The device's rounded design distributes force around a small circular opening, creating a corridor that allows surgeons to reach the problem area with minimal damage to the brain. By radially displacing brain tissue in hard-to-reach areas, the device improves surgeons' ability to safely and effectively treat conditions such as tumors, blood clots, and aneurysms, leading to better patient outcomes.
"The team has been working extremely hard, spending countless hours in the BME Design Studio. The device is always on our minds," said current team leader and fourth-year biomedical engineering student Jack Ye.
CortiTech formed by Rohith Bhethanabotla '18 in March 2017 through the Department of Biomedical Engineering's undergraduate Design Team program. After observing and interviewing physicians at the Johns Hopkins Hospital, the team identified a pressing clinical need for new ways to minimize trauma during neurosurgical procedures. The students spent the school year developing and prototyping their device to address this need, supported by faculty mentor Amir Manbachi, assistant research professor, and clinical mentors Alan Cohen, director of pediatric neurosurgery, and Rajiv Iyer, chief resident of neurosurgery. Practical feedback from Cohen and Iyer allowed the team to maximize the effectiveness of the Radiex prototype in the operating room.
"As one of the team's coaches, I am proud of what CortiTech has achieved," said Manbachi. "Our students are some of the best in the nation and this award is a testament to their ability to solve real-world problems, proposed by top-notch surgeons."
The team continues to improve their design and plans to apply its winnings toward upcoming legal and regulatory milestones. Prizes will be awarded at the annual Biomedical Engineering Society conference in October.
In addition to Ye, CortiTech's team members include Linh Tran, Sun Jay Yoo, Jody Mou, and Kevin Tu. Bhethanabotla and Callie Deng '18 serve as graduate advisors for the team.
The DEBUT Design Challenge is managed by the National Institute of Biomedical Imaging and Bioengineering (NIBIB), part of the National Institutes of Health (NIH), and VentureWell, a non-profit that cultivates revolutionary ideas and promising inventions.