Barclay students become biomedical engineers for a day
February 24, 2018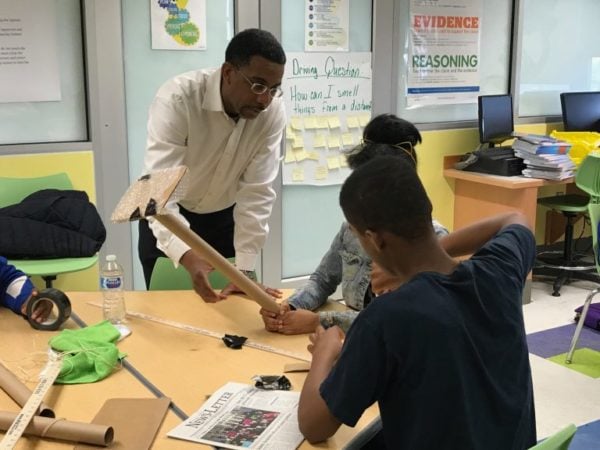 To wrap up National Engineers Week, Warren Grayson, associate professor of biomedical engineering at Johns Hopkins University, encouraged students at Barclay Elementary/Middle School to think like an engineer for an afternoon.
On Friday, Grayson led an activity during which middle school students used yardsticks, duct tape, cardboard tubes, bubble wrap, towels, and twine to create a prosthetic leg. The idea for the project was inspired by Grayson's own research, which focuses on developing new stem cell-based technologies to repair bone and muscle defects. 
Students divided into teams and had 60 minutes to design a prototype. They were encouraged to use the materials however they wanted, but had to consider factors such as stability, durability, shock absorption, and comfort.
"Engineering is not like math where there is one right answer and many wrong answers," said Grayson. "In engineering, there can be many right answers."
Prior to construction, students were urged to consider a few questions. How will it connect to the knee? Will it be strong enough to hold someone's body weight? How do we ensure it's the correct length from the knee to the floor?
Students used the cardboard tubing to replicate bone and provide support. Some used sponges and towels for comfort, and one team used the tape to act as skin, giving the whole prosthetic a layer of protection.
"Before starting, the students considered what would be some of the key design features of the prosthetic limb, and when they were done, they reflected on the key differences between their designs and the real prostheses that cost thousands of dollars," explained Grayson. "It's important for children even at that age to be a part of the engineering process, to discuss differences of opinions while designing the leg, and to compare the final designs from each team all while having fun."