Atana: A student startup uses blockchain to promote scientific collaborations
May 30, 2018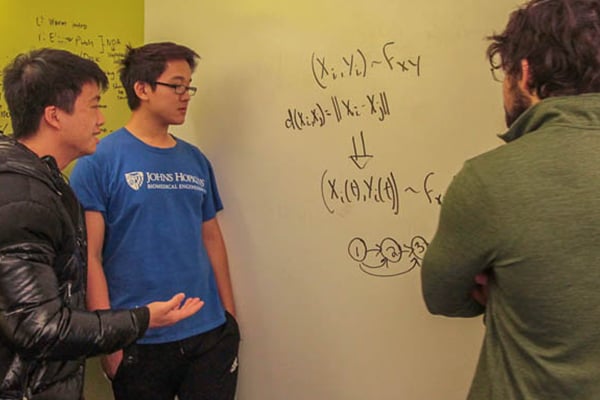 For Johns Hopkins seniors Kevin Joo and David Shi, the technology behind cryptocurrencies started as a hobby that they dabbled in between classes and homework. Now, almost two years later, they are ready to transform this hobby into a career through their startup Atana.
Joo, Atana's CTO and a biomedical engineering and computer science double major, and Shi, Atana's CEO and an economics major, met while working together on a class project. The two realized they shared mutual friends and a passion for blockchain, a secure technology that was created ten years ago to support the digital currency bitcoin. In 2016, they entered a global online hackathon with the goal of using blockchain to secure access to electronic health record data.
"I had been reading about cryptocurrency technologies on the dark corners of the internet for a long time," said Shi. "Being exposed to the research and medical data at Hopkins helped us connect the dots so we could try and apply this technology to health care."
After winning the AARP Foundation Prize at the Johns Hopkins Business Plan Competition in 2017, Joo and Shi put together a team of eleven, including three BME students and two PhD candidates from Hopkins and Stanford, to take their concept to the next level. Together, they created scalable infrastructure that allows innovators to connect on a private blockchain network. This gives researchers, clinicians, and business partners a secure platform for collaboration that allows data access and analysis without exposing sensitive information.
"Our goal is to create a more efficient ecosystem for research and development," said Joo. "We want to make it easy to securely share resources and data, fund biotech startups, create new drugs, and bring the right people together to solve big problems."
Attending classes during the day, the team members spend many late nights working in their dedicated space located in the Johns Hopkins incubator FastForward. "We work in sprints as opposed to the typical nine-to-five, and try to split our time effectively with school," said Joo.
After graduation, Joo and Shi plan to focus on Atana full time. In the past few months, their team has received funding through the Ralph S. O'Connor Undergraduate Entrepreneurship Fund and raised $150,000 in their seed round so far. Now, they are turning their attention to securing additional capital, participating in a token generation event in June, and exploring various value propositions for the platform by conducting pilot studies with their partners, which include leading genomics, healthcare AI, and pharmaceutical companies. Through these studies, Atana hopes to use their technology to increase efficiency in the healthcare and life science industries.
"We both wanted to work on something that we thought could make an impact," said Shi. "We've chosen a market that's picking up steam very quickly. People are beginning to understand the potential that exists at the intersection of blockchain, research, and health care. By devoting the right resources, we can create something with a lot of value using this technology." Read more about Atana's work here.