Alexis Battle among five Johns Hopkins scientists to receive grant from Chan Zuckerberg Initiative
April 19, 2018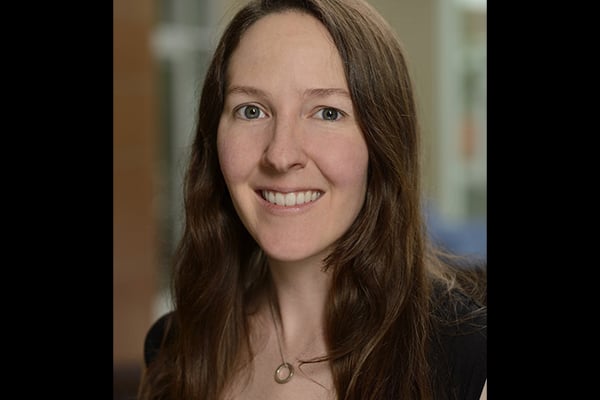 Alexis Battle, assistant professor of biomedical engineering at Johns Hopkins University, is one of five Hopkins scientists selected to receive funding from the Chan Zuckerberg Initiative. Through this program, these Hopkins scientists will share a $15 million award with 83 others from 53 institutions in the U.S. and eight other countries.
The award, which is called Collaborative Computational Tools for the Human Cell Atlas, has been given to scientists who will develop open access tools that use computing, algorithms, and other ways to visualize, collect, and analyze molecular and imaging data being generated by scientists working on the Human Cell Atlas. The atlas is an effort to create an encyclopedia of molecular and imaging data that charts every cell in the human body.
Battle will be using probabilistic models to analyze the output of genes in single cells from multiple individuals in order to understand the differences between genetic effects on different cells. Differences between cells within a certain tissue may not be apparent when all the cells are measured together, since most human tissues are a mix of multiple cell types. Finding these changes among many people can help explain disease processes. Battle's work aims to improve our ability to understand and detect disease by providing methods to pinpoint genetic variations in specific cell types within a tissue and across larger populations of people.
"We are excited to begin working on these promising projects with new partners from across the globe. These grantees include experts in experimental biology, engineering, and computational biology. Enabling them to collaborate and bring their diverse perspectives to the work is the core of our approach to advancing biomedical science," said Cori Bargmann, head of science for the Chan Zuckerberg Initiative.
Additional scientists from Johns Hopkins to receive funding include Elana Fertig, assistant professor of oncology; Loyal Goff, assistant professor of neuroscience; Kasper Hansen, assistant professor of biostatistics; and Stephanie Hicks, assistant professor of biostatistics.
Each of the grants lasts one year, and scientists are required to share their data online and with the larger consortium of researchers involved in the Human Cell Atlas. Facebook founder Mark Zuckerberg and his wife Priscilla Chan founded the Chan Zuckerberg Initiative in 2015. It is a philanthropic organization that supports basic biomedical research, education, and social justice issues.
Read more about the other Johns Hopkins scientists here.