2nd Annual JHU–UMD BMES Undergraduate Research Day
April 14, 2014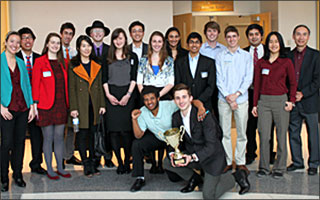 On Friday, March 28th, a contingent of Johns Hopkins University Depart­ment of Biomedical Engineering (JHU BME) undergraduate students and faculty visited the University of Maryland campus in College Park, Md. to participate in the second annual JHU–UMD Under­graduate Research Day with undergraduates from the University of Maryland's Fischell Department of Bio­engineering (UMD BioE).
This event is organized by the two universities' student Biomedical Engineering Society (BMES) chapters — under the leadership of chapter presidents Anvesh Annadanam (JHU BME), and Luke Peterken (UMD BioE).
Research Day is designed to showcase the quality of student research projects conducted during the academic year, as well as to inspire classmates in the biomedical engineering programs to pursue their own research. Thirteen JHU BME and fifteen UMD BioE abstracts and posters were entered into the competition.
Faculty members judged the posters and selected finalists, who then offered oral presentations about their work.
The top three winners of the oral presentations were:
1st Place — Josh Temple of JHU: awarded $250 for his presentation of "Anatomically Shaped Vascularized Bone Grafts with Adipose-Derived Stem Cells and 3D-Printed PCL Scaffolds"
2nd Place — Austin Jordan of JHU: awarded $150 for his oral presentation titled, "Localizing Seizure Foci in Medically Refractory Epilepsy Patients"
3rd place — Lily Sooklal, of UMD: awarded $75 for her presentation of "Weakly-Cytophilic Polyelectrolyte Multilayers Maintain Microtentacle Dynamics in Circulating Breast Tumor Cells"
Winners of the poster presentations were:
1st Place — Maxwell Collard of JHU: awarded $50 for his "Online Mapping of Task-Related Networks Using Electrocorticography" poster
2nd Place — Kristen Giles of UMD: for her "Competitive Displacement Reaction for DNA Sequence Biosensors Using a Stem-loop Hybridization Scheme" poster
3rd Place — Simon Ammanuel of JHU: for his poster "24h Quantitative-EEG and In-vivo Glutamate Biosensor Detects Activity and Circadian Rhythm Dependent Biomarkers of Pathogenesis in MeCP2 KO Mice"
Next year's 2015 Undergraduate Research Day will be held at the Johns Hopkins University campus.