Multiple JHU research paths led to a BME degree and a rewired thought process to propel Winjie Tang Miao, '98, on to a gratifying career
As senior executive vice president and chief experience officer for Texas Health Resources in the Dallas-Fort Worth area, Winjie Tang Miao '98 is in charge of driving one unified consumer strategy across a vast $5 billion system comprising 26 hospitals and more than 250 community access points. This includes building new capabilities in core business, and creating new products and services.
It's a job that stretches both sides of her brain: the left side needs to crunch data and strategize, while the right side considers the pathos and the ethos of overall well-being.
Miao, a self-described "right brain person," says it was her experiences as an undergraduate studying biomedical engineering at Johns Hopkins that laid the foundation for her successful career in public health.
"Genotypically I think I'm a right-brained person. But phenotypically, BME made me more of a left-brained person, providing a framework for my thought processes. The two have come together over the years in a way that has really served me well," says Miao.
An Illinois native, Miao says her decision to apply to Hopkins was an easy one. "I wanted to go into medicine and enjoyed solving practical problems, so BME was a way to combine both of those things. Hopkins had, and continues to have, the best BME program in the country. I was thrilled when I was accepted."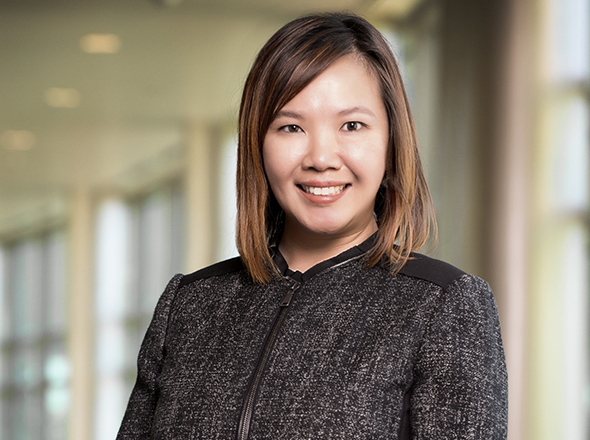 As a BME undergraduate, Miao also had strong interests in pursuing an MD-PhD, so she began doing bench research with the Johns Hopkins School of Medicine and the Wilmer Eye Institute's Retinal Degenerations Center, where she investigated retinal regeneration in chicks. This type of research also led her to work on the Human Genome Project and in other research laboratories. Though these experiences were valuable and gratifying, she ultimately decided that the research bench wasn't for her. Miao appreciates that Johns Hopkins offered a variety of experiencial academic opportunities to allow her to make a decision based on immersion.
Miao recalls being both surprised and pleased at how accessible BME faculty members were, serving not only as teachers, but also as caring mentors willing to spend time outside the classroom with her and other students.
"Dr. Shoukas would take a  meeting with any student—whether or not he was your advisor—to have a conversation about your path because he really wanted you to make the right decision for you," Miao says. "It still strikes me to this day."
Though she learned a tremendous amount in BME classrooms and labs, the city of Baltimore also provided many important lessons for a student who had grown up "around the cornfields of Illinois."
"[Baltimore] was so diverse, and it opened my eyes to a lot of different things," she says.
She particularly remembers peering out the window at the city passing by as she rode the JHU shuttle from the Homewood campus to the East Baltimore medical campus, and noting the stark social disparities as the vehicle traversed various urban neighborhoods. It was during those short rides, in fact, that the importance of public health began to come into focus for her. Looking back, she acknowledges that these experiences were undoubtedly the spark that eventually led her to pursue a master's degree in public health.
"What really struck me was…Gosh, just two blocks away the circumstances are very different—the opportunities are very different," says Miao.
Today, Miao is in a position to have a real impact on those public health disparities that made such an impression on her as a BME student. She understands the socio-economic differences and works to strategically align health and well-being services to meet those needs.
However, what motivates her hasn't changed much at all since her days as a Johns Hopkins undergraduate student.
"Every morning for the past 18 years, I've woken up and said, 'How can I make the experience better?'" she says.
One way she is doing that today is her efforts to make the Texas Health System more consumer focused, connecting its many segmented parts.
"I can book a flight and hotel with just one click, yet we still schedule medical procedures the same way we did almost 50 years ago," she says, noting that technology adoption is just one area where health systems need to step up rapidly to become more consumer friendly.
Beyond that, she believes that health information systems need to be more synchronous across all patient touchpoints.
"Without that, we can't understand the bigger picture. And if we don't understand the bigger picture, how can we provide the best care?" she says.
That "bigger picture" philosophy ties directly back to Miao's BME education, where she learned to see how all parts fit to make up the whole. She still considers herself an engineer who does black-box-like testing frequently as part of her strategic approach.
"Every role I've had the opportunity to have has always connected to my North Star of being a pragmatic pioneer—combining that right-brain, left-brain—to make a positive impact on the world," she says.