Johns Hopkins team wins NIH prize for hemorrhage diagnostic tool
September 5, 2023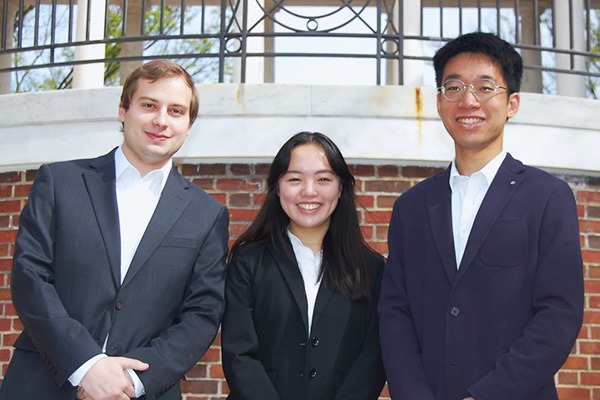 A team of Johns Hopkins biomedical engineering undergraduates took home a $15,000 prize at the National Institutes of Health's 2023 Design by Biomedical Undergraduate Teams (DEBUT) Challenge, which seeks innovative solutions to unmet health needs.  
The team — biomedical engineering seniors Feiyang Huang, Eric Simon,  and Ellie Zhang — won the Healthcare Technologies for Low-Resource Settings Prize for DioTeX, a fast, accessible, and accurate hemorrhagic diagnostic tool for combat care and other prehospital settings. 
Hemorrhagic shock, a condition where the body shuts off critical functions such as breathing and consciousness, is triggered by heavy internal or external bleeding. Internal hemorrhage is responsible for 90% of preventable U.S. troop deaths. However, current diagnostic tools for internal hemorrhages require highly trained personnel and are difficult to administer in combat settings. 
The team says DioTeX represents a new, faster way to handle hemorrhage care in combat situations, potentially saving thousands of lives each year.  
The device detects hemorrhage-specific biomarkers using a small blood sample from the ear. It works similar to an at-home COVID-19 test: one line on the device read means no hemorrhage; two lines mean bleeding is present. A major benefit of DioTeX is that it is highly portable and delivers results in minutes that can be read by anyone. 
"Our tool will be able to quickly identify hemorrhaging patients and requires minimal training, making it easy to use in low-resource and rural settings. The long-term objective is to save lives by lowering the training barrier for internal hemorrhage diagnosis," said Zhang.   
The project started as a biomedical engineering capstone design project, advised by Nicholas Durr, an associate professor of biomedical engineering, and Ariel Furer, former Chief Innovation Officer for the Israel Defense Forces Medical Corps. In April, DioTex also won a $10,000 prize in e-Fest®, a national business competition for undergraduate innovators.  
The team, which includes biomedical engineering alumni Cassandra Parent and Amanda Ruci, has filed a patent on their technology and are currently working on animal and human studies to further validate the product.  
"Everyone in DioTeX really believes in the lifesaving nature of our device, and we are incredibly honored that VentureWell and NIH have also recognized its potential. With this prize, we hope to move closer towards human trials," said Simon.