BME alumni corner
Welcome BME Alumni! We look forward to sharing current BME news, events, activities, resources and alumni engagement opportunities. We are also interested in learning your latest ventures and would welcome the opportunity to help broadcast your successes. Email the BME Alumni office with your news.
We also encourage you to join the BME Alumni Ambassadors Network. Launched in early 2019, this program is intended to connect our alumni to the department, our students, and each other. Alumni Ambassadors will volunteer their energy, talents, creativity, and enthusiasm to help Johns Hopkins BME spread our message and support our BME community. Learn more.
The Johns Hopkins University Department of Biomedical Engineering would like to thank you, its alumni, for your continued support of BME and JHU. We recognize that our alumni play a vital role in the continued success of the department.
Alumni News
BME News
November 24, 2020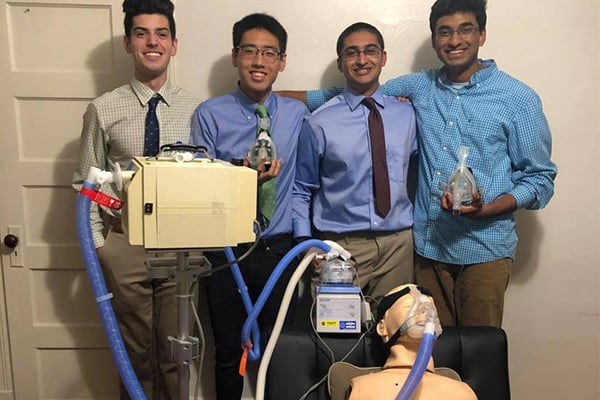 November 11, 2020
November 11, 2020
Featured Alumni
Lina Reiss, BME PhD '05
Hopkins alumna, Lina Reiss '05, is pursuing two avenues of research. One could lead to a better hybrid cochlear implant, and the other would help people with hearing loss interpret the sounds they can hear.
Read the full story.
Aaron Chang, BME MS '15
Recent BME alumnus Aaron Chang '15 has formed a startup, Renalert, to develop a real-time urine analysis device for the prevention of acute kidney injury.
Read the full story.
David Stein, BME '97, PhD '01
BME alum David Stein's job takes him around the world and to different cultures, but he always makes time to visit Johns Hopkins. Once an avid weightlifter, Stein was attracted to Johns Hopkins for its strong athletic program and excellent academics.
Read the full story.
David Giarracco, BME '89, MSE '93
As vice president of market development at Medtronic, JHUBME alumni David Giarracco finds the keys to his success at the intersection of the technical and personal. Read the full story.
Other Alumni in the News
David Narrow, MS '13
Ananth Natarajan, MSE '92
Daniel Peng '12, Ashish Dua '11, Rob Romano '11
M. Jason Brooke '04;
Robert Mittendorff '98
Steve Basta '88
Jonathan Sorger '04
Lawrence Bonassar '89

Alumni Events
Save the Date:
Thursday, October 12 at 8 p.m.
BME alumni reception at the BMES annual meeting in Phoenix, AZ
Friday, April 27, 2018
BME alumni reception and open house during reunion weekend
JHU Alumni Breakfast 2017
Alumni gathered for a BME breakfast event at the School of Medicine during the Biennial Meeting and Reunion Weekend. The program concluded with a tour of the Carnegie Center.
JHU Alumni Weekend 2017
It was great to see so many familiar faces at the BME Alumni Reception. Thank you for sharing time with us.
Connect with BME
About
About
The Johns Hopkins University Department of Biomedical Engineering would like to thank you, its alumni, for your continued support of BME and JHU. We look forward to using this section of our website to share with you current BME news, events, activities, resources and alumni engagement opportunities as well as periodically featuring our distinguished BME alumni. We recognize that our alumni play a vital role in the continued success of the department and hope that you will use this site as a resource to remain connected.
Mission
Our Mission: To advance human health by training biomedical engineers who will lead in Engineering the Future of Medicine through scientific discovery, translational research, and innovation that improves medicine and human health at scale.
Message from the Director
Faculty and students of the Johns Hopkins Department of Biomedical Engineering have been breaking new ground in biomedical research for over 50 years and we strive to continue this history of innovation and discovery every day. More than 480 undergraduates and over 238 graduate students are enrolled in the Hopkins BME program, preparing themselves for careers in medicine, basic science, and industry. Each year a new class of 120 students from a stellar candidate pool, accept our offer of admission. The academic level of the program is extremely challenging — giving the best and brightest students an opportunity to obtain the most comprehensive training in biomedical engineering available.
For our graduate programs, students are permitted to select any Hopkins faculty as a thesis advisor. We believe that both our students and the Johns Hopkins research mission are served best by placing our students in multidisciplinary teams, and we encourage them to find these opportunities
Our faculty members are world leaders in their respective fields of research which range from theoretical modeling of the machinery of the cell to the fabrication and implantation of engineered tissues in humans. I encourage you to explore the faculty research labs and reviews some of their publications.
If you have any general questions about the department please contact us today.
Engagement
Alumni Engagement
BME values the engagement of its alumni. The department benefits in many ways from your support.  For example: BME in the Real World provides undergraduate students the opportunity to hear about your experiences and successes since graduating from BME; our Ph.D. students have an opportunity to gain industry knowledge and experience from alumni through the new BME EDGE Center; the BME department, through its Advisory Committee, benefits from the commitment of our alumni committee members; and many of our programs continue to succeed because of your generous financial support. Thank you for your continued support of the BME department. Contact us to learn more about alumni engagement opportunities.
BME in the Real World
BME in the Real World is an undergraduate course that is open only to engineering students. This course involves a series of weekly lectures to inform students about careers in biomedical engineering and to discuss technological, social, ethical, legal, and economic issues relevant to the profession.
JHU BME EDGE
BME EDGE is a new departmental center established to invigorate doctoral education by facilitating internships for PhD students and providing professional development training through internships and workshops. For more information on this new center, visit BME EDGE today.
JHU Alumni Association Volunteer Opportunities
The JHU Alumni Association offers many ways for our alumni to become involved with the Johns Hopkins community. To learn more, please visit the alumni association website.
Communications
Alumni Communications

To help you stay informed of the activities of the BME department and the university, the links to the right offer communication resources.

The BME Newsletter

The Johns Hopkins BME News delivers noteworthy department news and information directly to your inbox. And it is a great way for alumni to stay connected with this dynamic department's activities, accom­plishments and events. View past issues.

Connect with BME on Social Media
Giving
Giving and Support

Thank you for your support of the JHU Department of Biomedical Engineering!

When you give to Johns Hopkins, you are part of an elite group, one that is allowing Johns Hopkins to take on society's most intractable problems and medicine's most complicated cases, and one that will allow Johns Hopkins to continue to serve as a leading catalyst for positive change for generations to come. Make a gift to Johns Hopkins today and begin to transform the world.

Ways to Give

There are several ways in which you can give. You can write a check, charge your gift using our secure online giving form, transfer assets such as stocks, bonds, and property, or make a planned or deferred gift through bequests, annuities, and trusts.

All of the university's academic divisions depend on annual gifts, which are spent in the year they are given. There are also a number of ways to give to Johns Hopkins from outside the U.S.

If you have any questions or would like more information on how you might support BME through giving, please email the Biomedical Engineering Alumni Office or call us at 410-614-9154.

Make an Online Gift

If you are interested in directing your gift to benefit the Department of Biomedical Engineering, please use our secure online giving form to indicate your designation preference.
Contact
Contact BME Alumni

We welcome your questions or comments and will get back to you as soon as possible.